About the Principal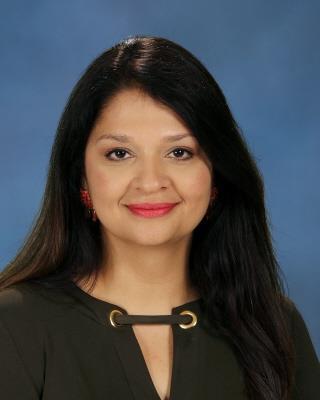 Phone:
Email:
Degrees and Certifications:
Mrs.

Hema Adhia

Hema Adhia joined Pinellas County Schools in March 2019 as the first principal of Elisa Nelson Elementary School which will be inaugurated as the first school of its kind to offer the Center for Gifted Studies and Literacy Innovationin the fall of 2019.

Originally from Mumbai India, Mrs. Adhia has resided in the Tampa Bay area since 1996. She began her career in education in 2004 at Macfarlane Park Magnet School in Tampa. As a member of the founding faculty, Mrs. Adhia helped establish a culture of high academic excellence at Macfarlane Park which became the first authorized International Baccalaureate (IB) school in 2007 to offer the Primary Years Programme (PYP) in Hillsborough County. She taught self-contained classes in grades 3, 4, 5, implemented Math Academy strategies with gifted and talented students, and then took on a lead role in K-5 Gifted Education at Macfarlane.

In 2010, Mrs. Adhia began work as the IB Coordinator to transform Roland Park K-8 in to a magnet school to be launched as Hillsborough's first K-8 IB World School offering both Primary (PYP) and Middle Years (MYP) as a district wide magnet school. As part of the administrative team, she influenced positive alliances with parents and community including the Westshore and South Tampa chambers, designed and implemented IB staff development and steered Roland Park's enrollment and academic achievement levels to record highs.

During her teaching career Mrs. Adhia earned National Board Certification, and the Ida S. Baker Diversity Educator award at both her schools.

In 2013, Mrs. Adhia was selected by the International Baccalaureate (IB-Americas in Bethesda, MD to serve as a school consultant, evaluator, and workshop leader for schools in North and South American Regions.

In 2013, Mrs. Adhia returned to Macfarlane Park IB with her appointment as the Assistant Principal for Elementary Instruction (APEI). During her six-year tenure in the Assistant Principal role, she worked closely with her principal to execute the mission and vision of the school community by inspiring students and faculty members to set and achieve high academic expectations aligned with the mission and philosophy of the International Baccalaureate Organization and Hillsborough County Schools. During this time Macfarlane Park was recognized as the top magnet school by the Magnet Schools of America (MSA) organization.

Mrs. Adhia earned her bachelor's degree in Liberal Arts with a focus in Chemistry and Education at Excelsior College in New York and a Masters in Educational Leadership and Policy Studies at the University of South Florida. She holds a Florida Professional Educator Certificate in Elementary Education (K-6), Educational Leadership (K-12) with Gifted, English for Speakers of Other Languages (ESOL), and Exceptional Student Education (ESE) endorsements.

She enjoys the outdoors, gardening, and traveling. Some of her favorite moments are when she visits her boys who are studying at Northwestern University in Chicago, IL and University of Southern California, in Los Angeles, CA.