Calling all Fifth Grade Graduates!
We are so proud of your accomplishments and are excited to celebrate each of you as you move to on to middle school! If you would like, at your convienence stop by the bus circle and take a photo with JCFinley! Ring the bell! Share your photos using #FlatFinley and please email them to flatfinley@gmail.com.
**Please remember to use proper social distancing per CDC guidelines.
****by submitting your photo to flatfinley@gmail.com you are giving permission for GBEMS student council to repost your photo for school purposes.**
FINSUP!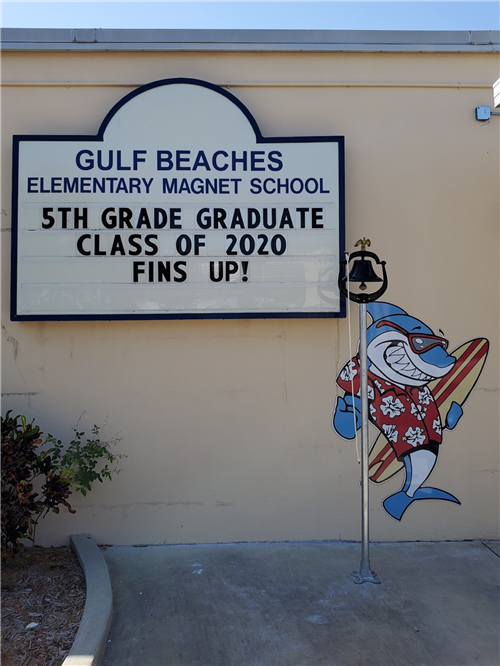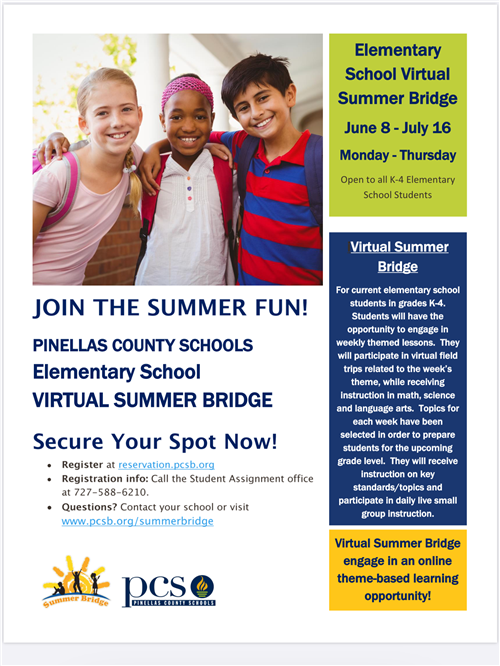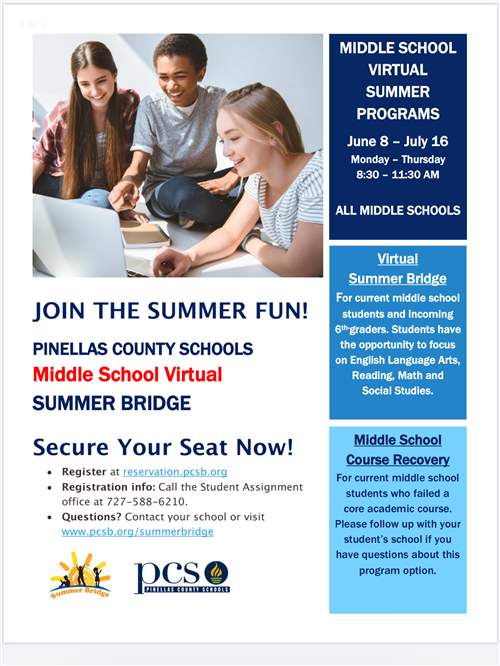 ---
As we celebrate our first graduating class from Gulf Beaches Elementary School. Our fifth grade families are encouraged to drive through the car circle with your name written on a large piece of paper to hold up. We will announce your name and have your certificate ready for pickup. Please see the detailed information below.

Thursday May 28th at 9:00AM
5th Grade Drive Through Graduation to be held on Thursday, 5/28, at 9 am.
Location will be the Car Circle
Families are to remain in their vehicles and line up heading North on Boca Ciega Drive and enter making a right turn onto 85th Ave (Similar to a Normal Dismissal Pick Up)
Vehicles are to line up as they arrive. There is not a special order for them. The Classes will be mixed.
Each Family needs to make a sign with the child's first and last name for announcing them
Families are encouraged to decorate their vehicles
Once the child is announced, the vehicle will pull forward
At the end of the Car Circle the vehicle will stop where one adult will get out and go to a table that is designated by the Classroom Teacher's Name to pick up the child's certificate and yard sign
Staff will be lined along the Car Circle and 85th Ave to "Cheer" and celebrate our Inaugural Kindergarten Students Promoting to Middle School
This will complete the ceremony
This process has been developed following all CDC Guidelines for Social Distancing.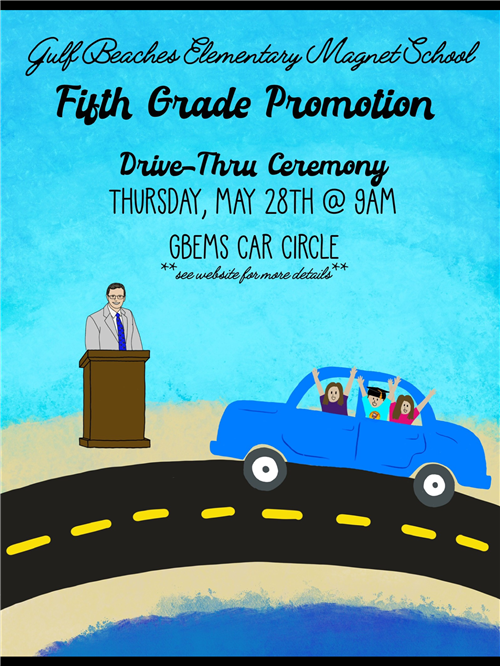 ---

Thank you for joining us!

Wow thank you for joining us for the reverse parade. It was a great time to share a smile, and a wonderful send off for our amazing and gifted Mrs. McLean. It was a huge success, and wonderful to see all of your signs, banners, and smiling faces. If you have pictures or videos you want to share please send them to Mr. Carney. carneym@pcsb.org Did you see your teacher? Did you miss seeing anyone? Who made the most noise at the parade? Who was tired after the event? All those are parts of the fun of being in a parade.
Thanks again for helping to make it a huge success!
---
Dates for pickup of student belongings.
Tuesday May 26th from 7:00AM - 9:00AM for grades 1, 2, 3, and 4
Wednesday May 27th from 7:00AM - 9:00AM for Kindergarten and grade 5
We also have a second date available as a second option.
Thursday May 28th from 4:00 PM - 6:00 PM for all students Kindergarten through 5th grade.
Please if you have students in multiple grades please coordinate through email with your
teacher and the teacher of the child in the highest grade level to arrange pickup at one time and one location.
---
---
Hey Gulf Beaches Technosharks!
As we look around our homes and see the same things day after day while we are learning, did you ever notice the little things that change around you all the time. Use your investigative abilities and help us find the difference in these pictures, and maybe celebrate in the fact you get to see some familiar faces along the way!
As they say the answer to many problems is really right there in front of you all along. So use your eyes, and start to observe, some are normal and some are absurd. Smile and have fun along the way, we hope you will join in and play.
Each photo hunt at will have at least 5 differences. Can you find them?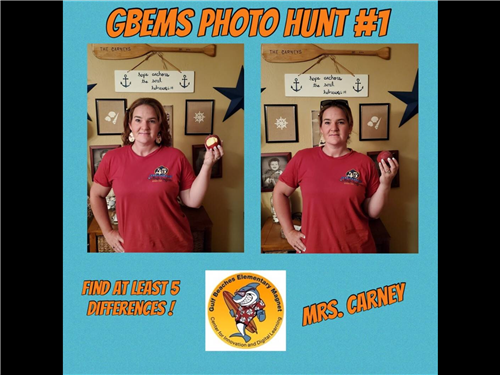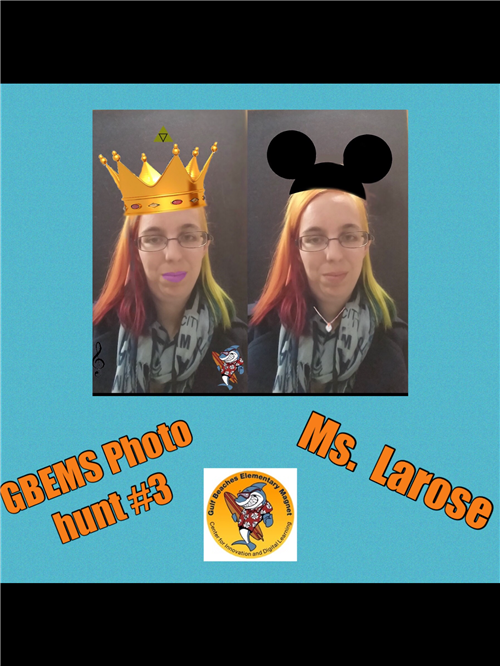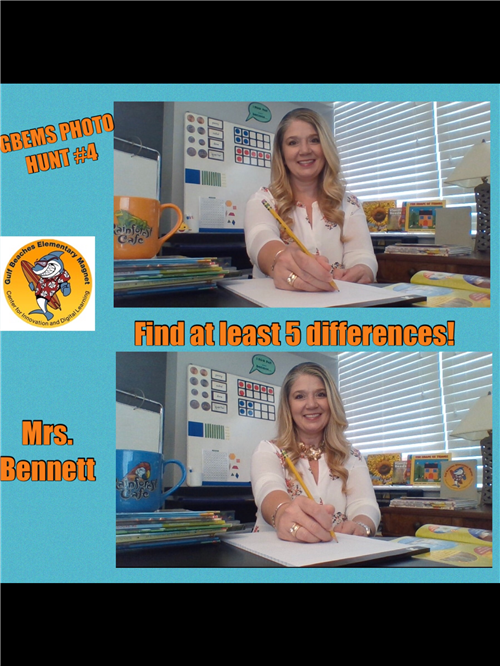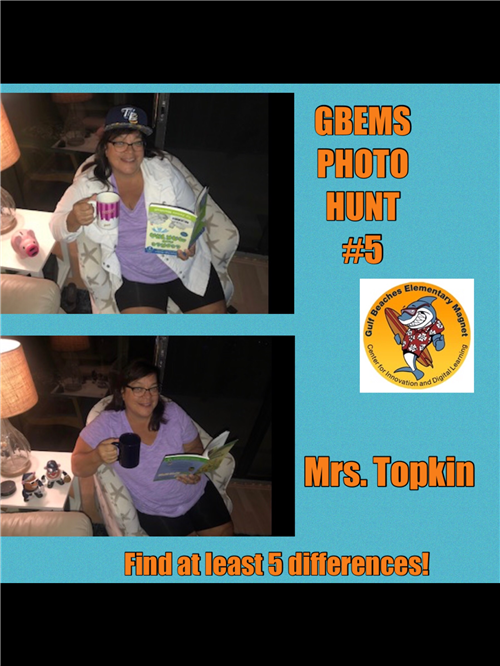 ---
The Annual School Financial Report has been posted to the district website. Florida Statutes require each school to make this report available to their parents as soon possible. Please provide the link below within the parent's page of your school website with a statement that the report is available for their information.
The report can be found on the district website by following the link below:
https://www.pcsb.org/Page/23944
---
At Home Online Learning Update
Please encourage your child to login to the Teams app on their laptop, or ipad. To login they will need to enter their user name (r2.d2@pcsb.org) and their password they use to login to their clever account. Teachers will start posting information in the next few days on Teams. Please email your teacher if you have any problems accessing the information on Teams.
---
Update on COVID-19
The Florida Department of Education has made the recommendation for all counties to close schools to do a deep cleaning of all the school facilities through The end of this academic school year. Please continue to monitor the Pinellas County Schools homepage for additional information.
---
Login Update
With the changes coming from the Florida Department of Education please stay tuned for updates and continue to check the Pinellas County Schools Homepage to learn how this will impact your child's schedule. Make sure they are using their r2.d2 credentials to access clever, and Office365. If you have trouble accessing anything please email your childs teacher.
Attention Parents
Please find time to review the information from the Pinellas County Schools, Student Code of Conduct Page 42. There has been a recent rise in the number of students using digital devices such as cellular phones on campus, and traveling to and from including use on school buses. Together we can help to keep our kids safe, and make sure they are being good digital citizens. We also encourage you to talk to your child and ask what apps they are using for their own entertainment purposes. While we take great pride in teaching our students digital citizenship sometimes popular apps can encourage confusion to our digital citizenship teaching snapchat, tik tok, instagram, facebook, twitter, etc.
Pinellas County Schools Code of Conduct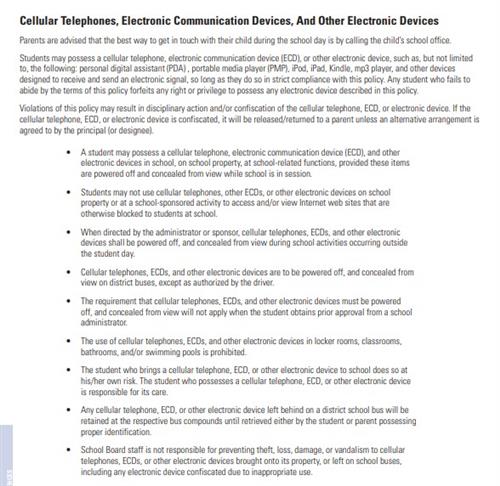 ---
Afternoon Dismissal Procedures
Remember Parents and Guardians when you pick up students at the walkers gate please demonstrate and display safe habits. Please use the designated crosswalks, and do no walk through the carcircle. This is for the safety of you, your child, and everyone else. Lets be safe and help everyone be the best they can.
---
Join our School Advisory Council (SAC) today!!!
As a member of SAC, you will have the opportunity to support school improvements and provide input on important school based initiatives. Our SAC needs full representation of school demographic groups. If you are interested and willing to join, please contact our Front Office.
---
Important Announcement
Travel to School Safety Issues
Please use this link to report unsafe conditions and/or concerns for your trip to school.
---
Super News
We are an A+ School
Great job students, staff, and parents. With all of us partnering together and working hard, our school has been recognized as an A+ school, by the Department of Education in Florida. This is a huge accomplishment, so make sure you celebrate your success. This can only be accomplished by everyone working together toward a common goal, our student's success. As always, thank you for partnering with us and we look forward to seeing you as soon as the school year begins. Enjoy the rest of summer, and see you soon.
---
Please use this link to find out how you can join PTA.
---
Healthy Snacks On The Menu
Free App Available from www.nutrislice.com to view the nutrient content of meals served.
****Gulf Beaches Elementary Magnet School will require that all foods and beverages sold, served,
and offered during the school day, and the extended school day, meet Smart Snack's guidelines.
---
Attention Parents and Families
When signing onto campus to have breakfast or lunch with your child(ren), please be reminded that this privilege is limited to this purpose and the interaction with your child(ren) only.
We provide the outdoor picnic area where we encourage you to enjoy a meal with your child(ren).
Thank you for supporting our Safe School Environment.
---
Carcircle Pick-up and Drop-off Map
Please refer to the map below to see the flow of our car circle in the morning and afternoon. Remember the safety of everyone is our number one concern, and with your help following this traffic flow we can make sure that everyone is safe.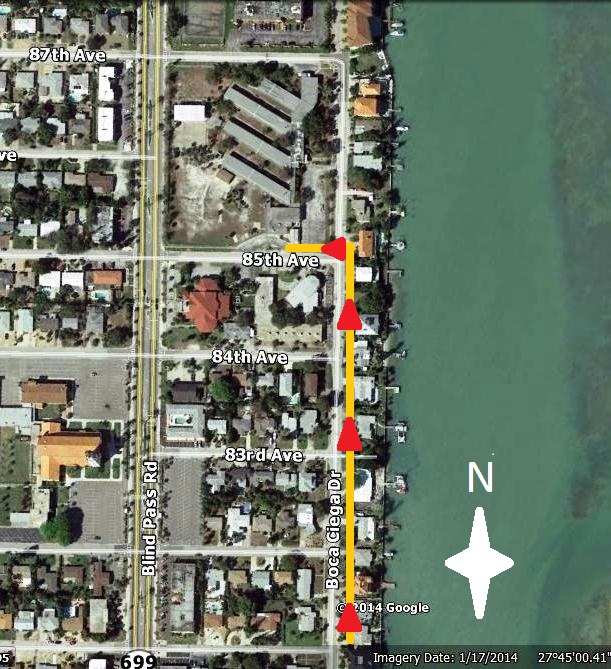 ---
Updating Parent Contact Information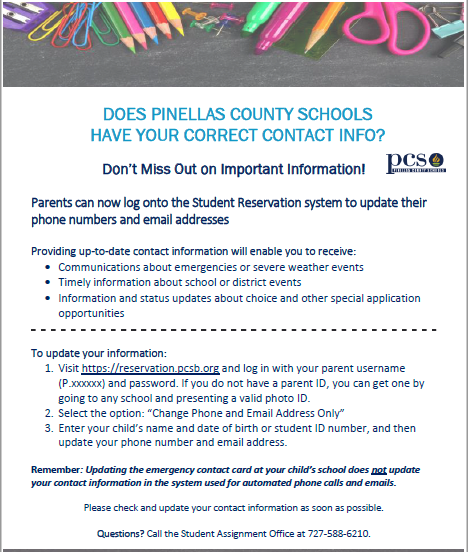 ---
---
Important tips for navigating our site:
Visit our calendar for upcoming events! The link is located on the left hand side of this page in the Upcoming Events block.

Scroll down the page to see our Announcements, Spotlight, and Mission tabs! They contain very important information.
Don't see what you are looking for? Still have questions? Please click on the "Contact" button at the top of this page to send an e-mail to Mr. Carney. He will address your request as soon as possible.