Congratulations to the following students and teams on their standings at the Gifted Math Meet!
JR Crain - Highest individual score for Fourth Grade
Alex Perera - Highest individual score for Fifth Grade
Autumn Weaver - Fourth place individual school for Fifth Grade
Fourth Grade Team - Fourth Place Overall
Fifth Grade Team - First Place Overall
---
Congratulations to the following students who earned their IC3 Grade 5 Spark Certification!
Sophiejoon Alfonso
Jacob Bush
Connor Gadsden-Phipps
Johnny Hall
Ty Harris
Jean-Luc Lumos
Joshua Mannari
Tasneem Miah
Alex Perera
Damon Perkins
Autumn Weaver
The IC3 program is a Technology Industry Certification. The Spark program is designed for younger students as an entry point. Originally intended for Middle School populations, some advanced Fifth graders are capable of mastering the concepts in elementary school.
There is a huge advantage to earning a certification at the elementary level. It provides an advanced technology track in middle school, and can result in specialized fields for high school including: computer coding, cyber security, graphic design, database administrator/architect, web design, and many other technology fields.
The program is broken down into 3 main areas: computing fundamentals, living online, and key applications. Each requires the students to be fluent in technology areas such as: technical vocabulary, cross operating platforms (windows, OS X, etc), redundancy capabilities (menus, right mouse click, keyboard shortcuts), device hardware and software, dangers and benefits technology can provide, and performance based tasks. Students must become proficient with a rigorous curriculum, with a wealth of info to be taken in.
---
Congratulations to our Fifth Grade PRIDE Award Winners!
These students have worked hard all school year and have demonstrated excellence in the following academic areas:
Alex Perera - Mathematics
Madeline Johnston - Science
Jacob Bush - Social Studies
Ty Harris - Writing
---
Annual ESE Parent Survey
Parents of Special Needs Students: Make Your Voice Heard
Take the ESE Parent Survey at www.esesurvey.com.
It is time for the Florida Department of Education's annual ESE Parent Survey. The survey helps determine how well your child's school is partnering with you and promoting your involvement in your child's education.
The survey is for parents of students who receive special education services. Your feedback helps the state and the school district improve special education services for students and their families.
The survey is confidential, but PCS receives overall results and makes changes based on your feedback. As a result of feedback, the district has developed a new support group for parents of students who receive special education services, an ESE parent guide to help parents advocate for their children, and a new ESE department position that helps students and families plan for life after high school.
Complete the survey at www.esesurvey.com starting Feb. 1. Paper surveys are also being distributed. If you need a paper survey or want more information, please contact Tracy McMannus at 727-588-6062 or MCMANNUST@pcsb.org.
---
Updating Parent Contact Information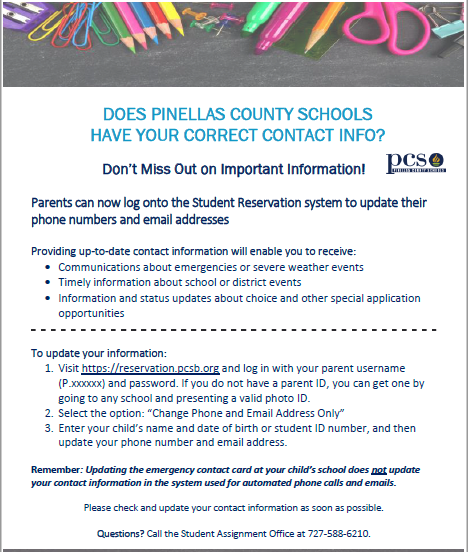 ---
17-18 School Year

Click here to view Classroom Supply Wish Lists

Click here to view our student uniform options
**IMPORTANT**
In order for students to access the internet/internet-based apps at home, they must follow these directions:
Open the iPad @Home app
The Content Keeper login window will open (if it has been 24 hours or more since the last login)
Enter student credentials (their R2.D2 and new password)
Once it processes and a successful connection is made, the pcsb.org home page will open and you can now access the internet and internet-based apps (like Clever).
Here are the directions with photos

*Note: Content Keeper will always make you login after 24 hours. If you are having trouble getting the Content Keeper login window to load, try these troubleshooting steps.
---
Join FINSS!
New this year at Gulf Beaches Elementary Magnet School is FINSS (Future Innovators' Network for Student Skillsets)!
As part of our school curriculum, Project Based Learning (PBL) is being infused into the classrooms. Teachers and students are working collaboratively to expand their knowledge and present it in unique ways.
In preparation for new PBL projects on the horizon, we would like to collaborate with our families and community members to share their skills, interests and real-world experiences with our students!
View our video to learn more!
Please take this survey if you interested in partnering with us!
Check out the projects we have been working on!
---
Important tips for navigating our site:
Visit our calendar for upcoming events! The link is located on the left hand side of this page in the Upcoming Events block.

Scroll down the page to see our Announcements, Spotlight, and Mission tabs! They contain very important information.
Don't see what you are looking for? Still have questions? Please click on the "Contact" button at the top of this page to send an e-mail to Mrs. Piland. She will address your request as soon as possible.