Gulf Beaches Elementary Magnet School Families,
In an effort to best meet the academic needs of our students, we are conducting a survey regarding the use of students' assigned devices at home. Please click on the link below to complete the brief, five question survey.
https://www.surveymonkey.com/r/9266TZ7
Thank you in advance for your support!
We have already received over 100 responses! Thank you to those families!
---
IMPORTANT:
Our first hurricane make-up day is Monday, October 16th. This was originally a teacher work day. However, students are expected to attend school as a make-up day for one of the days missed due to the hurricane.
The two additional make-up days (which were originally scheduled as Teacher Work Days) are Monday, January 8, 2018 and Monday, March 12, 2018.
---
Free Lunch for All Students
The U.S. Department of Agriculture (USDA) announced that students in Florida schools affected by Hurricane Irma will be able to enjoy free school meals provided by USDA's National School Lunch Program through October 20th. This includes students enrolled in Pinellas County Schools.
---
GBEMS Annual Fish Broil
Mark your calendars for Saturday, October 14th!
Our annual Fish Broil will be held on campus from 4:00 PM - 7:00 PM.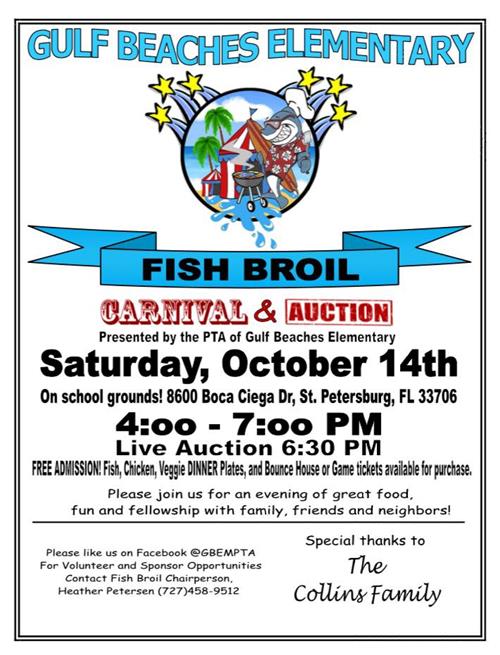 ---
Updating Parent Contact Information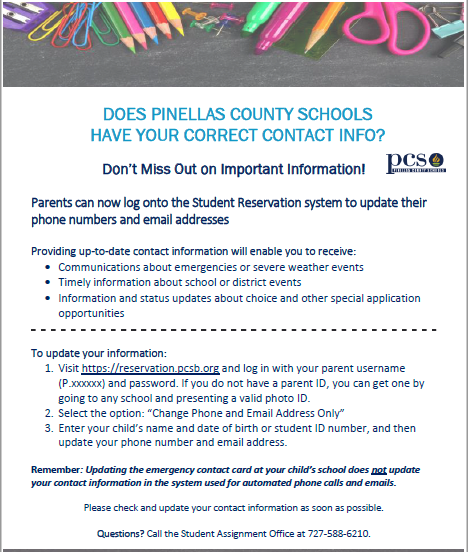 ---
17-18 School Year

Click here to view Classroom Supply Wish Lists

Click here to view our student uniform options
**IMPORTANT**
In order for students to access the internet/internet-based apps at home, they must follow these directions:
Open Safari
Type a URL in the address bar (like msn.com or espn.com)
Click Go
The Content Keeper login window will open
Enter student credentials (Their R2.D2 and new password)
Once it processes and a successful connection is made to a website, they can access the internet and internet-based apps.
---
Join FINSS!
New this year at Gulf Beaches Elementary Magnet School is FINSS (Future Innovators' Network for Student Skillsets)!
As part of our school curriculum, Project Based Learning (PBL) is being infused into the classrooms. Teachers and students are working collaboratively to expand their knowledge and present it in unique ways.
In preparation for new PBL projects on the horizon, we would like to collaborate with our families and community members to share their skills, interests and real-world experiences with our students!
Click here to view our video and learn more!
---
Important tips for navigating our site:
Visit our calendar for upcoming events! The link is located on the left hand side of this page in the Upcoming Events block.

Scroll down the page to see our Announcements, Spotlight, and Mission tabs! They contain very important information.
Don't see what you are looking for? Still have questions? Please click on the "Contact" button at the top of this page to send an e-mail to Mrs. Piland. She will address your request as soon as possible.