Just a few steps and you are ready to go! www.pcsb.org/volunteerregistration

Returning volunteers should:
*Reactivate your registration annually by signing in on the computer

MENTORS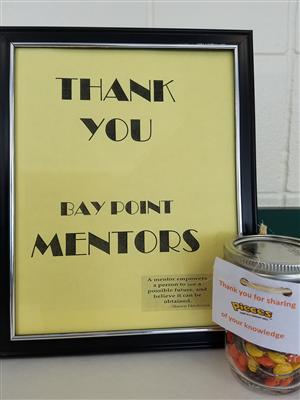 Bay Point Middle will need both female and male mentors for the 2020-21 school year . You can make a significant difference with only an hour or two a month. If you would like to become a TSIC/Doorways mentor for the school year please consider attending an upcoming mentor workshop. All new mentors must attend a one-time two hour Mentor Strategies Workshop offered by Pinellas County Schools at various locations throughout the county.
Mentoring Strategies I Workshop:
Volunteers are provided useful information about being a mentor, a role model who offers encouragement. Participants will learn effective listening skills, goal setting, communication skills and relationship building. Attendance is required for all new Pinellas County Schools mentors. Please register 48 hours in advance. To register, call the Office of Family and Community Relations:
(727) 588-6000 ext 1853 or
email Michelle Roberge.