Administrative Office Assistant - Clearwater Campus Testimonial
In December 2016 I became a displaced worker after my job of 21 years was sent overseas. I knew my previous experience as an administrative professional would not be enough in this competitive job market that we all now face. I decided to acquire some current industry certifications and that is what lead me to Pinellas Technical College and to enroll in the Administrative Office Specialist program.
My instructor, Angela Wright-Nash, was a welcome force that guided me and showed empathy for my plight as an older student (54 years). Ms. Nash provided all the encouragement I needed to be successful in her program. What I appreciated most was her sense of humor and how she truly cared about her students.
Cabinetmaking Testimonial
Over a year ago I found myself lost with no direction for what I wanted to do with my life. I was a writer, stuck in the limbo that is writer's block, and I no longer could put words to paper.
Because I believed in the value of learning a trade, I decided to go to Pinellas Technical College. I figured even if I didn't get a career out of it, at least I would have a life skill. What I didn't know was that I would find, not only a career path that fit me perfectly and offered many job opportunities, but also new ways to tell stories.
Thomas Meyer, Auto Collision Repair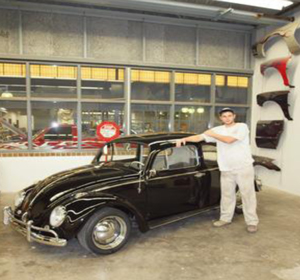 Thomas Meyer, a 2012 graduate of PTC St. Petersburg's Auto Collision Repair and Refinishing program is shown with a completed restoration of an antique Volkswagen Beetle. This project was done in the Auto Body program's shop for a customer who plans to enter it into local car shows. Thomas has been working for the Jerry Ulm Dodge dealership in Tampa for the past two years.