Web Development - Clearwater Campus Testimonial
My experience with Web Development program at PTC was a very positive one. Coming into the program with no programming background I wasn't sure what to expect. Miss Calderon made it easy to learn. But she did expect you to apply yourself and to be in class ready to learn. She made sure you understood your schedule and that you were responsible to complete all your assignments on time. If you did have any questions or problems with your assignments, she took the time to answer your questions or to help you understand how to work though the problem.
Administrative Office Assistant - Clearwater Campus Testimonial
In December 2016 I became a displaced worker after my job of 21 years was sent overseas. I knew my previous experience as an administrative professional would not be enough in this competitive job market that we all now face. I decided to acquire some current industry certifications and that is what lead me to Pinellas Technical College and to enroll in the Administrative Office Specialist program.
My instructor, Angela Wright-Nash, was a welcome force that guided me and showed empathy for my plight as an older student (54 years). Ms. Nash provided all the encouragement I needed to be successful in her program. What I appreciated most was her sense of humor and how she truly cared about her students.
Cabinetmaking Testimonial
Over a year ago I found myself lost with no direction for what I wanted to do with my life. I was a writer, stuck in the limbo that is writer's block, and I no longer could put words to paper.
Because I believed in the value of learning a trade, I decided to go to Pinellas Technical College. I figured even if I didn't get a career out of it, at least I would have a life skill. What I didn't know was that I would find, not only a career path that fit me perfectly and offered many job opportunities, but also new ways to tell stories.
Auto Collision Repair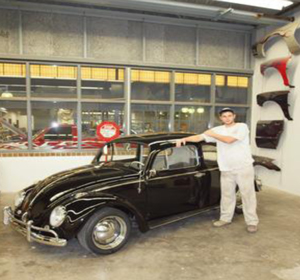 Thomas Meyer, a 2012 graduate of PTC St. Petersburg's Auto Collision Repair and Refinishing program is shown with a completed restoration of an antique Volkswagen Beetle. This project was done in the Auto Body program's shop for a customer who plans to enter it into local car shows. Thomas has been working for the Jerry Ulm Dodge dealership in Tampa for the past two years.
Pharmacy Technician Testimonial
There are many students who haven't truly considered what career they will choose after high school or what their educational path will be. Roland Rogers was one of those students. After high school, Roland didn't have a specified career of choice or major in mind and feared being defaulted to general education without a major. So, he chose to major in what "sounded best at the time", computer science. After two semesters in college, Roland realized that computer science was not for him. He considered his talents, his interests, and his life circumstances, and discovered that pharmacy fit his career aspirations.
Roland described this as a "game-changer" in life. He then had the arduous task of finding a way to make his new found career goal a reality. He needed to go to school for much longer than he originally planned and to find the financial means to make that happen. In order to pursue a career in pharmacy, he decided to attend PTC for certification as a pharmacy technician. The money that he received working as a pharmacy technician has helped fund his way through his education.
Roland, after receiving his pharmacy technician certification, is now working as a technician in the Tampa Bay area. He is attending college at HCC to continue the education he began at PTC and become a qualified pharmacist. He has found his path to success.
"I'm working full-time and going to school a few nights a week so sometimes it feels hard to do, but I'm sure that I've got it right this time!"
Dental Assisting Testimonial
As a dentist who has seen many dental assistants coming from various schools in the area, there is by far, one school that graduates the best, most hirable graduates, and that is PTC. When I hire a PTC graduate, I know they will have the skills needed to jump into my office.
Accounting and Administrative Office Assistant - Clearwater Campus Testimonial
When I began employment as an Administrative Assistant Intern I became interested in the Administrative Office Specialist and the Accounting Operations programs at Pinellas Technical College. I wanted to enhance my skills and learn new skills so that I would excel on the job.
Commercial Foods and Culinary Arts - Clearwater Campus Testimonial
Chelsea Marshall-Hirvela, was a summer 2014 graduate. She works for and is founding member of the University of Florida for the Cooperative Extension for Leon County Family Nutrition Program.