PERKINS THEATRE DEPARTMENT
The Theatre goal at Perkins is not only to build the confidence level of each student, but also to instill in them the art and appreciation of the theatre. The words we build our drama program on are IMAGINATION and CREATIVITY. Through the students' discipline, focus, and theatre technique, we explore all the possibilities of our creative minds.

DIRECTORS: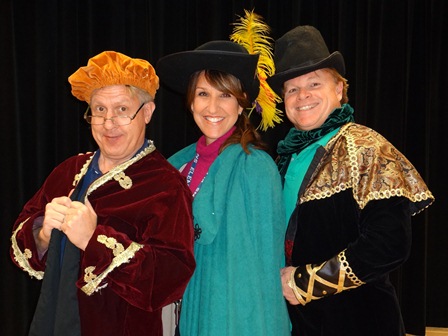 Barry Hamilton, Sandal Aronson and Tim Topper
Tim Topper This e-mail address is being protected from spambots. You need JavaScript enabled to view it. , who came from New York, Los Angeles, and then to Florida is the director of the Theatre Department at Perkins. Sandal Aronson This e-mail address is being protected from spambots. You need JavaScript enabled to view it. , who also came from New York and many tours, also directs and teaches at Perkins. Barry Hamilton This e-mail address is being protected from spambots. You need JavaScript enabled to view it. from Ruth Eckerd Hall is the musical and tech adjunct drama teacher who also adds to the program every week.
These three drama teachers not only bring invaluable teaching experience to the students at PERKINS, but also a tremendous amount of professional experience from Broadway to Hollywood, and from national commercials to prime time television and feature films.

THEATER ARTS
Theatre Arts covers a wide range of subjects the actors use to perfect their art. Here are a few of the drama exercises the Theatre Program teaches at Perkins:
| | | | |
| --- | --- | --- | --- |
| IMPROVISATION | PUPPETRY | STORY TELLING | PLAY WRITING |
| VOCAL WORK | PANTOMIME | MOVEMENT | AUDITIONS |
| SCENE STUDY | COMMERCIALS | TECH THEATRE | FILM WORK |
| PLAY READING | MIME | MUSICAL THEATRE | STATUES |
| CHARACTER WORK | MIRRORS | MACHINES | SOUND TECH |
| FAIRYTALE THEATRE | LIGHTING | TECH | STAGE MAKE UP |
"Oliver the Broadway Musical"
What a wonderful culmination of the hard work by the 2013-2014 4th & 5th grade drama focus group!