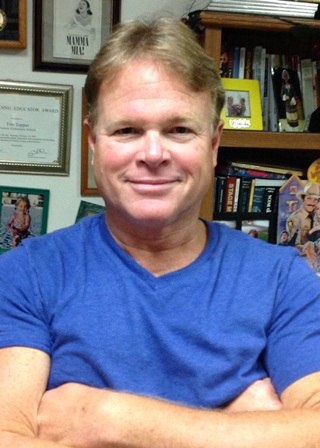 Phone:
Email:
Degrees and Certifications:
Tim Topper

Tim grew up in Baltimore and worked as a "newsie" before moving to the farm in his early high school years. He is a graduate of Towson University with a BA in Theatre, a BA in Marking and a minor in Dance.

After college Tim moved to New York City and was there a short period of time after landing the lead in several summer stock musicals and a feature role in a movie musical from Universal Studios, which took him to Texas and then to Hollywood, California to work with Dolly Parton and Burt Reynolds. In Los Angeles, Tim was cast as one of the brothers in the CBS show SEVEN BRIDES FOR SEVEN BROTHERS.

After the run was over he began filming the lead in the NBC series GOING BANANAS, which was the first live children's show from Hanna Barbera since their hit show HR PUFNSTUF. Tim got to work with a great cast. He shared the lead in the Television show with an eighty pound Orangutan named Roxie. FOX television was next as Tim starred in the series Footlight Follies.

Tim also has a long list of national commercials and regional Theatre productions. Tim moved to Florida and began working in the theatre education departments at Ruth Eckard Hall and Tampa Bay Performing Arts Center. He is starting his 21st year at Perkins as their Theatre Teacher. Tim also choreographs for John Hopkins Magnet Program and several high Schools in Pinellas County. He is also the founder of the very successful summer theatre program Abba Dabba Theatre Perkins.

Tim is the proud father of his very talented children, Nicholas and Emily Topper.