---
Summer Bridge 2021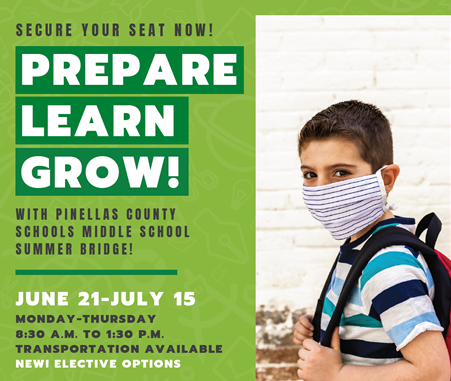 The Summer Bridge Middle School Program Registration opens March 23! Summer Bridge helps students develop and strengthen skills in math, reading, science and social studies, with a blend of technology, small group instruction, manipulatives, hands-on labs and project-based learning. New this summer, students will have the opportunity to take an elective! Course recovery courses will also be offered to eligible students in math, science, social studies and language arts. Transportation is also available this year, along with free Breakfast and Lunch!
Dates: June 21 – July 15
Days: Monday - Thursday
Hours: 8:30 a.m. to 1:30 p.m.
To Apply: Go to https://reservation.pcsb.org
Need Help Applying? Please contact Student Assignment at 727-588-6210 or StudentAssignment@pcsb.org