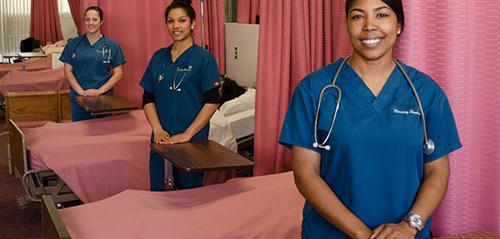 ---
Mission:
Our mission is to educate and empower competent nursing students with the ability and opportunity that will enhance holistic quality health care to people of all cultures in various health care settings to support the Florida State Board of Nursing approved program. The purpose of this program is to prepare students for employment as licensed practical nurses.
Program H170605 consists of a planned sequence of courses.
Basic Healthcare Worker - Course HSC0003 (90 hours) – Instruction covers basic health care and safety procedures, employability, communications, interpersonal skills, basic mathematics, science and computer literacy.
Nurse Aide and Orderly (Articulated) - Course HCP0121 (75 hours) – Includes studies in legal and ethical responsibilities, physical comfort, and safety function, care for the patient, infection control and patient rehabilitative activities.
Practical Nurse, 1 of 3 - Course PRN0091 (285 hours) – Content includes theoretical instruction and clinical experiences in fundamentals, body structure and function, human growth and development, and nutrition.
Practical Nurse, 2 of 3 - Course PRN0092 (450 hours) – Content includes theoretical instruction and clinical experiences in medical, surgical, and oncology nursing, pharmacology, and medication administration.
Practical Nurse, 3 of 3 - Course PRN0096 (450 hours) – Content includes theoretical instruction and clinical experiences in obstetrics, pediatrics, and geriatric nursing; and biological, psychological, and social support. Students will also demonstrate employability skills specific to practical nursing.
Special Admission Requirements: A high school diploma or GED is required to enter the program. Applicants are required to take and pass the Test of Essential Academic Skills (TEAS). Specific health occupations admission guidelines (immunizations, drug screening, background check, etc.) are available in Student Services.
Upcoming Classes:

April 19, 2017 - Application packet - Traditional

(Health Screening Form included):

admissions seminar

- Wednesday February 8, 2017 at 5:30pm in Nursing Lecture Hall (Building 12)
Upcoming Admissions Information (click on the following documents to view/print):
Distance Education: Pinellas Technical College offers the Practical Nursing program in an online (hybrid) format. The online program is exactly like the traditional on-site program with two exceptions: (1) The majority of the 675-hour academic theory part of the program is delivered via computer (with a few scheduled campus-based activities) as opposed to having face-to-face classroom instruction and, (2) The remaining 675 clinical hours are scheduled as much as possible on week-ends and evenings at various locations in our immediate and surrounding counties. The clinical and lab hours are spread throughout the 15 month program with the majority occurring in the second half of the program. The Pinellas Technical College Practical Nursing program is unable to accommodate students who want to complete hours at clinical sites other than those approved for use locally. For additional information go to the 'Online Programs and Courses' page.

Articulation Agreement(s):
Statewide Registered Nursing, A.A.S./A.S. Degree
St. Petersburg College Nursing R.N., A.S. Degree
Pinellas County Schools Centers for Wellness and Medical Professions
This program is approved by the Florida State Board of Nursing
Industry Certifications: Certified Nursing Assistant (CNA)
Licensed Practical Nurse (LPN)
Program Awards: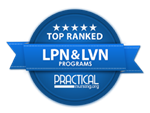 Related Links:
Minimum Satisfactory Academic Progress Requirement: 85%
Minimum Attendance Requirement: 94%
Basic Skills Entrance/Exit Requirements: Student's competency in reading, math, and language is pre-assessed using the Test of Adult Basic Education (TABE). Required basic skills grade levels are: Reading-11, Math-11, and Language-11.
---
« Back to Programs and Courses
* Length of program and all costs are approximate and subject to change.