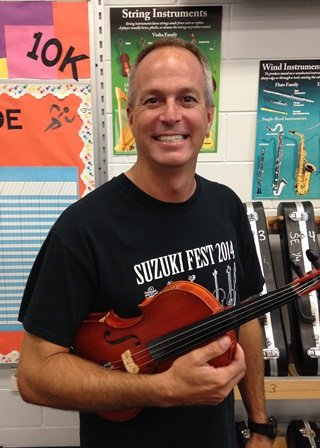 Phone:
Email:
Degrees and Certifications:
Steven Visnage

Mr. Visnage has been with Perkins since the winter of 2014. He is a graduate of Pinellas County Schools and received his bachelor's and master's degrees at the University of South Florida in Tampa. Being a well rounded musician his career has found himself in many different teaching situations. These include general music in the elementary school, middle and high school band and strings, drum and bugle corps, string symposiums, and community orchestras. He is currently a show designer for marching bands around the country and is regularly asked to adjudicate various music festivals. Mr. Visnage is married with two daughters and enjoys playing on the water in his spare time. His favorite sports are surfing, kiteboarding, paddle boarding, and swimming.

"I absolutely love coming to work everyday. There is no place on earth where you can see more smiles in one day than at Perkins Elementary. It's just a great place to teach!" Mr. Visnage
Music Technology Focus

Mr. Visnage has recently created a music technology Focus that meets weekly for 4th and 5th grade Focus students. The class is only a year old but in this short time we have developed a iPad lab for creating and performing music. We spent a good deal of time working in the Apple program called Garage Band. Here we learn the ins and outs of music creation, composition, and performance using digital keyboards, iMacs, and iPads. Students are well versed in all aspects of the program and can use these skills in other areas of their life as well. Last year we had our first performance of an iPad band where the students performed "I Got A Feeling" by the Black Eyed Peas. Each student was responsible for a specific part and used the iPad to recreate this song in real time using "virtual instruments". To get an idea what an iPad band looks and sound like check out Youtube and search iPad band.

We also have added DJ workstations to our lab where students can learn and perform on actual workstations in real time. This is super high tech and a lot of fun. We have yet to have any students perform live on these stations, but this is a new year….so who knows who the next Perkins DJ will be.

If you child likes music and technology….why not put them both together and join the newest addition to Perkins Focus…..music technology. The class is limited to 10 students for each grade level.

---

WELCOME TO STRINGS

Welcome to Strings here at Perkins. Students begin taking violin instruction in 1st grade. Classes meet 30 minutes a week. In 2nd grade, students continue on violin for 60 minutes a week. The style of instruction for 1st and 2nd grade is based on the Suzuki method…a method used around the world that believes everyone CAN learn a musical instrument. Here is more information on the

Suzuki Method

.


3rd through 5th grade get to participate in string orchestra if they choose. These ensembles comprise of violin, viola, cello, and bass. These classes meet twice a week with a focus on music fundamentals and string technique. Students learn how to read music and play as an ensemble. Each class prepares pieces to play in concerts here at school and out in the community.

Community performances for string orchestra students in past years have included ACE Day Performance at the Capitol, The Tampa Bay Area Movie Premier for Music of the Heart, Islands of Adventure at Universal Studios, All Children's Hospital, Holiday Performances at the St. Pete Pier, The Sawgrass Fiddle Festival, Art in Bloom in connection with the Festival of States Circus McGurkus, The Saturday Morning Market, Magnet Music Mania, Students Measures, All County Music Festival, l Young Musicians Festival, Music Performance Assessment, and various other civic organizations in the surrounding area. Annual school performances that keep our string orchestra students very busy include Veterans Day, Concerto Cafe, Outback Night, Celebremos, Suzuki Fest and our Fall and Spring concerts.