Office Hours:
8:00 am- 3:30 pm
---
Hello Belcher School families. I hope you've had some time to relax over Spring Break and that you are healthy.
As we transition to digital learning for the next few weeks, our team is here to support you. Our children are resilient and we will find the bright side of this new experience together.
This week students should login to Clever and participate in the enrichment activities available. You can find a link on our school's webpage.
Next week, starting on March 30th, we will begin digital learning though the Microsoft Teams app. To access virtual instruction, students can use a smart phone, tablet or computer.
If you need a device, we will use our car circle to distribute them over the next two days.
In order to pick up a device,
Students must be accompanied by an adult.

The adult must provide identification

The adult will need to fill out and sign the Parent (Guardian)/Student Technology Equipment Receipt and Responsibility Form (You may download this form from our website and bring the printed copy with you to save time. One form is needed for each device)

The student will login to the computer with their R2D2 number to ensure the device is working and properly updated before leaving campus.
The form below must be completed in order to check out a device. If possible, please print and fill out one form for each child that needs a device prior to arriving. We will also have copies available at school for those that do not have access to a printer.
https://www.pcsb.org/cms/lib/FL01903687/Centricity/domain/176/pcs%20forms/2-3184.pdf
I encourage you to come at your assigned time to ensure we do not have a large crowd. If you are experiencing any symptoms of COVID-19 or are not feeling well, please send someone on your behalf. We will be following all CDC protocols, including social distancing. We ask that you do the same.
Distribution Times
Tuesday, March 24th
9-10 am: Kindergarten & 1st Grade
10-11 am: 2nd & 3rd grades
11 am – 12 pm: 4th & 5th grades
Wednesday, March 25th
10 am to 1 pm: all grades
If you have any concerns or special needs, please contact the school or me directly. We want to ensure all families have the necessary technology and Internet access to engage in online learning while school is closed. You may e-mail me at moodyk@pcsb.org with questions. I will continue to keep our families updated. Thank you for your patience and flexibility. We are a strong community and I know we will continue to support each other as we move forward.
Educationally yours,
Kristy Moody
---
Belcher Families,
We are working together to ensure learning continues over these next few weeks. If you need assistance, please utilize the following in order to help us maintain customer service:
1st – E-mail your child's teacher. They may be able to answer your question or they can direct it to the correct staff member.
2nd – E-mail our school secretary, Mrs. Kelli Barr (barrk@pcsb.org). She will answer or forward it to the best contact. For registration questions e-mail Mrs. Keva Lopez (lopezke@pcsb.org).
3rd – E-mail our school administration team.
Mrs. Kristy Moody, principal (moodyk@pcsb.org)
Mrs. Gina Owens, assistant principal (owensg@pcsb.org)
4 – Call the school number 727-538-7437.
---
Congratulations to Belcher Elementary's first ever Boys Read Battle of the Books team members. They competed with 9 other schools on Wednesday in a reading competition. They may not have won but they gave it their all and we are all so proud of what they accomplished!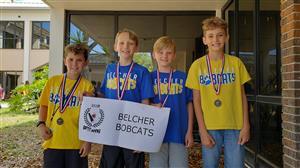 ---
---
Dear Families,
The link below will provide you with a great deal of information regarding the English to Speakers of Other Languages (ESOL) for your English Learners (ELs). If you click on the ESOL Families link on the left you will see the ESOL Family Outreach page. On this page you will be provided with a Family Newsletter, Events for ESOL families, Spanish Parent hotline and much more! Please take the time to visit this site!
---
---
---
---
---
Find out now if your student's bus is going to be delayed
Pinellas County Schools Transportation Department is implementing a new system to inform you when your child's bus is going to be delayed. Our school is part of a pilot effort to use a system called Bus Bulletin.
The Bus Bulletin notification system will notify schools, parents and students when there are bus delays and schedule changes. If you would like to receive instant notifications when delays or incidents affect your student's bus, please register with Bus Bulletin.
There is no cost to you for this service.

Registration is simple and fast.

You can choose to receive either text messages, phone calls, and e-mails or all of these options.

All contact information is stored securely and will not be shared or sold. Your privacy is protected.

Please note: this system is not related to Pinellas County Schools new emergency text message communications through SchoolMessenger.
For more information, or to sign-up and start receiving notifications, please visit: www.BusBulletin.com/parents.
If you need assistance with registration, call Pinellas County Schools Transportation Department at 727-587-2020.
Descubra ahora si el autobús de su estudiante va a estar retrasado
El Departamento de Transporte de las Escuelas del Condado de Pinellas está implementando un nuevo sistema para informarle cuándo se retrasará el autobús de su hijo. Nuestra escuela es parte de un esfuerzo piloto para usar un sistema llamado Bus Bulletin.
El sistema de notificación del Boletín del Autobús notificará a las escuelas, padres y estudiantes cuando haya retrasos en el autobús y cambios de horario. Si desea recibir notificaciones instantáneas cuando los retrasos o incidentes afectan el autobús de su hijo, regístrese en el Boletín del Autobús.
No hay ningún costo para usted por este servicio.

El registro es simple y rápido.

Puede elegir recibir mensajes de texto, llamadas telefónicas y correos electrónicos o todas estas opciones.

Toda la información de contacto se almacena de forma segura y no se compartirá ni se
venderá. Su privacidad está protegida.
Tenga en cuenta: este sistema no está relacionado con las nuevas comunicaciones de
mensajes de texto de emergencia de las Escuelas del Condado de Pinellas a través de
SchoolMessenger.
Para obtener más información, o para registrarse y comenzar a recibir notificaciones, visite: www.BusBulletin.com/parents.
Si necesita ayuda con la inscripción, llame al Departamento de Transporte de las Escuelas del Condado de Pinellas al 727-587-2020.