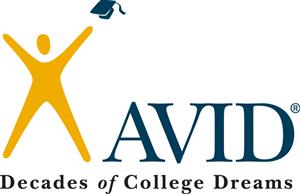 AVID, Advancement Via Individual Determination, is a college readiness system for elementary through postsecondary that is designed to increase schoolwide learning and performance. The AVID College Readiness System (ACRS) accelerates student learning, uses research based methods of effective instruction, provides meaningful and motivational professional development, and acts as a catalyst for systemic reform and change.
AVID is designed to help support students that have the potential to go to college, but may be from historically underrepresented groups, the first in their family to go to college, or have some other circumstances that may require some support. Sometimes the special circumstances are simply that the students needs help being organized.
To be successful in AVID, students have to be capable of accessing advanced courses and they must be individually determined. AVID does teach study skills, organizational habits, and teamwork. We create a "family" atmosphere to help students feel comfortable getting help and providing emotional support for one another.
AVID is not a remedial program. AVID students must take advanced courses as to be competitive for admission into four-year universities. Freshman are required to take one honors course (of their choice). Sophomores are required to take two honors courses (of their choice). Juniors are required to take one AP or Dual Enrollment course (of their choice) and it is recommended to take another honors course. Seniors are required two AP or Dual Enrollment courses (of their choice).
AVID's Mission is "To close the achievement gap by preparing all students for college readiness and success in a global society"
How do I join AVID?
To be admitted into AVID, students must maintain an unweighted GPA of 3.0, have a clean behavior record, and good attendance. Of course, there may be some exceptions.
In AVID, we support students with their coursework by helping them work through problems on Tuesdays and Thursdays in a group setting using Socratic questioning to help students come to their own answer. This methodology is contrary to the traditional tutoring scenario where students are told the answer. In our tutorials, students discover their own answers by their peers directing their attention by asking them questions.
You can watch more here: The AVID Tutorial 10 Step Process
For more information about AVID at ELHS:
Contact East Lake High School's AVID Teacher/Coordinator
Ms. Heather Wiseman Room: 9131,
E-mail - wisemanh@pcsb.org