Return to Headlines
Professions come to life during Great American Teach-In
November 16, 2016
Police officers, scuba divers, members of the military, county sheriff deputies with their helicopters, veterinarians and many other professionals shared their careers and hobbies with Pinellas County Schools students Wednesday during the annual Duke Energy Great American Teach-In.

Members of the community were invited into Pinellas County schools for an hour, a few class periods or an entire school day to share with students details of their career or hobby, to organize an activity, or simply read a story or to teach a class.

Throughout the day, students grasp the knowledge and a better understanding of the many career choices that are available.


Pinellas County Schools would like to thank all those who took the time to share their stories and careers with the district's students.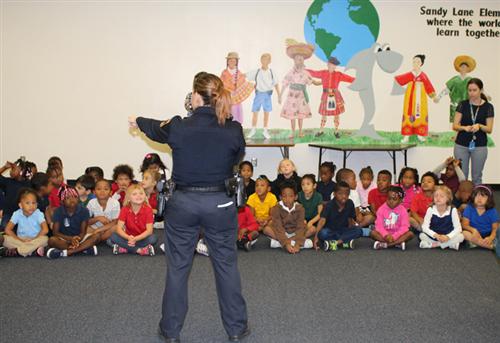 Officer C. Leuallen of the Largo Police Department and Joe Kelly, a scuba diver, speak with students at Sandy Lane Elementary.