Return to Headlines
Pinellas Superintendent chosen as the Florida Association for Career and Technical Education Supt. of the Year
July 17, 2018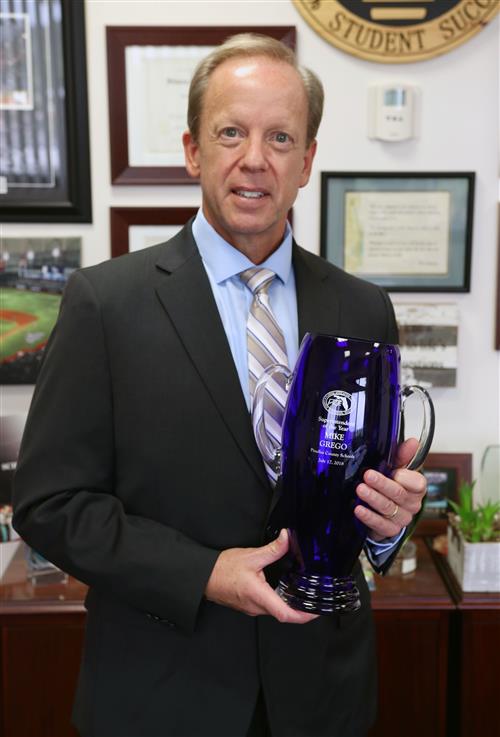 Pinellas County Schools Superintendent Dr. Michael A. Grego was selected as the 2018 Florida Association for Career and Technical Education Superintendent of the Year. The announcement was made at the 52nd annual FACTE conference held in Orlando, Florida.
Under Dr. Grego's leadership, Pinellas students are exposed to increased opportunities for career exploration, preparation and investigation. In elementary school, students are learning about in-demand careers through STEM (science, technology, engineering and math) Academies, and, at the district's high schools and technical colleges, academy programs are helping students earn certifications and job skills necessary for success in their desired career fields.
"As a long-time supporter of FACTE, it is humbling to receive this recognition. There is so much value in career and technical education. The district's new technical high school, career academies and programs and STEM clubs are creating new opportunities for students," said Michael A. Grego, Ed.D., superintendent of Pinellas County Schools. "This award acknowledges the work of the district's hardworking career and technical education teachers and administrators and the progress of our school district growing these programs."
Pinellas County Schools has 262 STEM Academies districtwide, which serve more than 6,000 students. District middle schools feature 48 career exploratory programs and 22 career academies. More than 7,300 students participate in these programs. There are 72 programs (including 40 career academies) in Pinellas high schools that serve more than 22,000 students. Additionally, the district plans to open its first technical high school for the 2018-19 school year. Both Pinellas Technical Colleges have a $48 million impact on the local economy each year. PTC's enrollment is 4,224 students and 87 percent of students graduate, with 93 percent of graduates placed into employment.
Pinellas has seen tremendous growth in industry certifications at all levels. During 2011-12, high school students earned 2,222 certifications. Pinellas added middle school certification opportunities in 2014-15. In 2016-17, students in elementary, middle and high school earned 12,915 certifications.
Students enrolled in the district's career and technical education programs have better GPAs, attendance and graduation rates. Career academies are playing a critical role in closing the achievement gap as well. In 2017, the graduation rate for African American students in Pinellas was 69.3 percent. The same year, the graduation rate for African-American students enrolled in career academies was 93 percent.
Thanks to the commitment and support of the Pinellas school board members, the district is viewed as a national leader in Career and Technical Education.