Return to Headlines
Students participate in national deaf and hard of hearing math competition
April 21, 2017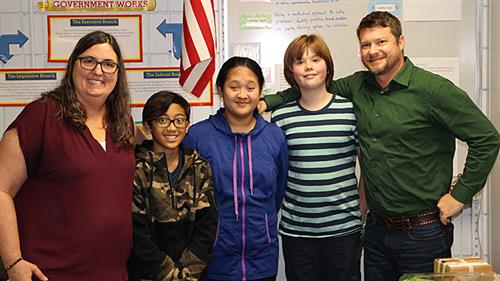 Three deaf and hard of hearing students from Morgan Fitzgerald Middle School recently traveled to the Rochester Institute of Technology (RIT) in Rochester, NY for a national math competition. Rochester Institute is home to the National Technical Institute for the Deaf, an internationally recognized leader in preparing deaf and hard-of-hearing students for successful careers in professional and technical fields. There are more than 1,200 deaf and hard of hearing students who live, study, and work with hearing students on the RIT's campus.
There were 35 teams from all over the country and Canada that participated in the math competition. In its ninth year, this is the first time that students from Pinellas County Schools participated. The Morgan Fitzgerald Middle students were: sixth-grade student Drew Hornyak, seventh-grade student Ronald James Brooks and eighth-grade student Tyna Kim.
The students competed in a team problem solving event that involved 10 problems with 45 minutes to solve them. There was a sprint round that consisted of 30 problems and 45 minutes to finish them (individual competition). And, there was a target round where eight questions were divided into two 12-minute sessions.
Morgan Fitzgerald Middle finished 14th out of 35 teams and one student, Drew Hornyak, ranked 17th out of 136 players.
"The whole trip was an eye opening and amazing experience for our DHH Phantoms," said Lisa Rose, one of the teachers who traveled with the students to RIT. "We saw them build their self-confidence more as a DHH individual and interact with other new DHH friends. We definitely will go back next year."
There are around 200 students who are deaf and hard of hearing receiving services from Pinellas County Schools. There are 18 teachers and 24 educational sign language interpreters who specialize in working with these students. The district offers services to DHH students from birth until 22.