Return to Headlines
Student achievement recognized at awards breakfast
May 19, 2017
Pinellas County Schools recognized its high achieving minority students at the 32th annual Joseph L. Carwise Student Achievement Awards. The awards breakfast was held at the Carillon Park Hilton in St. Petersburg There were 145 students who received a 3.0 or higher GPA and of the 145, 69 or 47% boasted a 4.0 GPA or higher. The banquet is sponsored by Superintendent's North County Minority Advisory Committee.

WFLA Channel 8 News anchor Rod Carter was the master of ceremonies and Superintendent Michael Grego gave words of encouragement.

"As you continue your educational pursuit, I want to encourage you to never give up and to aspire to reach the highest level in everything that you do," Grego said.

In addition to the student recognitions, scholarships were presented to graduating seniors by the Upper Pinellas Branch of the NAACP, Alpha Phi Alpha Fraternity, Inc., Alpha Kappa Alpha Sorority Inc., Delta Sigma Theta Sorority Inc., Sepia of Pinellas. The Dr. Joseph L. Carwise Scholarship was also presented.

Dr. Joseph L. Carwise was a 36-year Pinellas County Schools educator before retiring. He began his teaching career as a mathematics teacher at Pinellas High in Clearwater before working in the district's Research Department. He was also assigned the task of overseeing the pupil assignment office and was responsible for enforcing the Federal Court of Order of desegregation. Dr. Carwise was the first black member of the City of Clearwater Commission and served from 1971 to 1976. In 1991, the Pinellas County School Board named Carwise Middle School in his honor.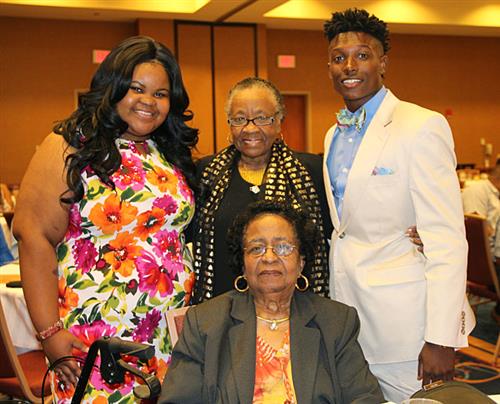 Pictured:
Dr. Joseph L. Carwise 2017 Scholarship winners: Alexia Singletary, Palm Harbor University High School (l) and Elijah Green, East Lake High School (r). Sitting is Dr. Carwise's wife, Panchita Carwise.