Return to Headlines
Students excel at National Leadership Conference, one wins a national position
July 16, 2019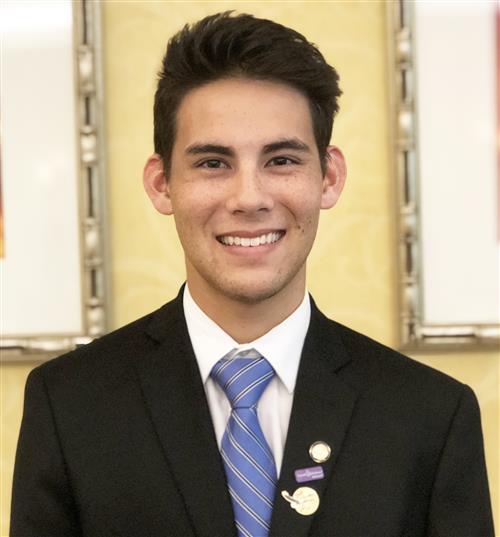 Thirteen district students finished in the top 10 at the Future Business Leaders of America's National Leadership Conference held in San Antonio, Texas June 24-July 2. In addition, Ethan Ghozali, a Palm Harbor University High rising senior, was elected vice president of the Southern Region. The Southern Region includes Alabama, Arkansas, Florida, Georgia, Kentucky, Louisiana, Mississippi, North Carolina, South Carolina, Tennessee, Virginia and West Virginia.
Ethan, pictured right, has been a member of FBLA since his freshman year. He has served as a chapter president, state secretary, and as a National March of Dimes director. The most significant impact of FBLA on his life has been in connecting with new friends and mentors along the way. As a national officer, he hopes to provide this same experience to other FBLA members around the globe.
FBLA inspires and prepares students to become community-minded business leaders in a global society through relevant career preparation and leadership experiences. The programs focus on leadership development, academic competitions and educational programs. The high school division of FBLA has 196,900 members with 5,200 chapters in 47 states and seven countries.
Please see the district winners below.
Brandon Watson -1st Place - Network Design - Countryside High School
Rhythm Turner - 1st Place - Network Design - Countryside High School
Eric Gass -2nd Place- Digital Video Production - Lakewood High School
Antonio Gayoso- 2nd Place - Digital Video Production - Lakewood High School
Mason Hockensmith- 2nd Place - Digital Video Production - Lakewood High School
Jacqueline Cao -4th Place - Network Design - Lakewood High School
Benjamin Nguyen -4th Place - Network Design -Lakewood High School
Samuel Stewart - 4th Place -Network Design - Lakewood High School
Ryan Smith - 7th Place - Lak - Lakewood High School
Jennifer M Lawrence - 9th- Introduction to Business Communication - Palm Harbor University High School
Divya Arora- 9th -Job Interview - Palm Harbor University High School
Matthew Werneken - 9th - Organizational Leadership - Palm Harbor University High School
Brian Tran - 10th - Word Processing - Lakewood High School