Return to Headlines
Performing arts supervisor wins prestigious award for elevating arts education throughout her career
Nov. 10, 2020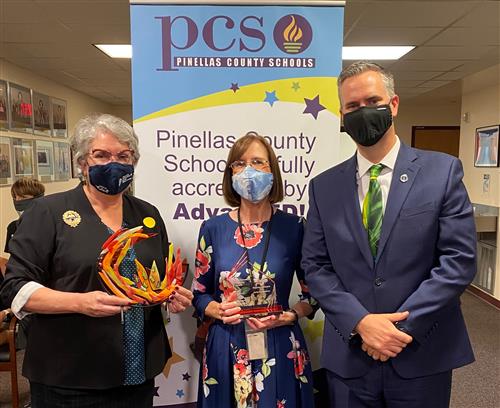 (Photo: Executive Dir. Florida Alliance for Arts Education Leiland Theriot, Performing Arts Specialist Jeanne Reynolds, and Arts Specialist Jonathan Ogle)
Performing Arts Specialist Jeanne Reynolds received the Dr. Mary Palmer Legacy Trailblazer Award from the Florida Alliance for Arts Education.
She has been an educator and a champion of the arts in Pinellas County for more than 30 years and h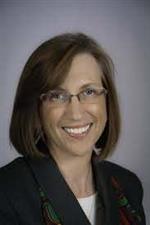 as served as PreK-12 Performing Arts Specialist for the last 23 years.
The School Board today recognized her for the prestigious honor, which was originally awarded at a virtual ceremony on Oct. 21.
Reynolds, who plans to retire next month, said she is fortunate to work in a district with leaders and colleagues that are so supportive of her and the arts.
"I have what everyone else is looking for," she said.
Superintendent Michael Grego and School Board members remarked how she has grown the school district's performing arts programs by galvanizing community support, recruiting and retaining high-performing arts educators, and modeling a standard of excellence for others to emulate.
Dr. Grego said that, thanks to Reynolds, the district's musical program has evolved and adapted with changes in the community, society and education.
"You have made sure that your legacy will be continued in Pinellas County through the teachers and the leaders you have developed," said School Board Chairperson Carol Cook.
The award is not presented annually, pointed out Associate Superintendent of Teaching and Learning Kevin Hendrick. It is awarded only when an individual has elevated arts education in their career to such a degree that they are recognized for their enormous contributions as a model for others across the state to follow, he said.
"You are a legend," School Board member Bill Dudley told Reynolds, sharing that his daughter's career path was inspired by Reynolds' influence.
In 2014, Reynolds was inducted into the Florida Music Educators Hall of Fame. She has received a Distinguished Alumni Award from the University of South Florida School of the Arts and numerous other awards, including the FMEA's Leadership Award, the National Society of Arts and Letters Annual Community Award, and the Ruth Eckerd Hall Shining Star Award. She holds a bachelor's degree in music education from Florida State University, a master's degree from the University of South Florida and an Educational Leadership Certificate.
Prior to her work as a performing arts supervisor, Reynolds taught chorus, keyboard, general music and musical theater in Pinellas County and Bay County school systems.
Reynolds has served as past president of the Florida School Music Supervision Association, and the Florida Music Educators Association (FMEA), and served as the Government Relations Chair for FMEA on multiple occasions.