Return to Headlines
Pinellas County Schools Graduation Rate Reaches New Heights – Hitting 91.5%
Jan. 7, 2021
Pinellas County Schools is celebrating a record-high graduation rate for the 2019-2020 school year. According to the official report just released by the Florida Department of Education, the Pinellas County Schools graduation rate rose to 91.5%, up more than three percentage points from last year's record high, and nearly 20 percentage points since 2013. Pinellas also leads the state with the highest graduation rate among Florida's ten largest public school districts.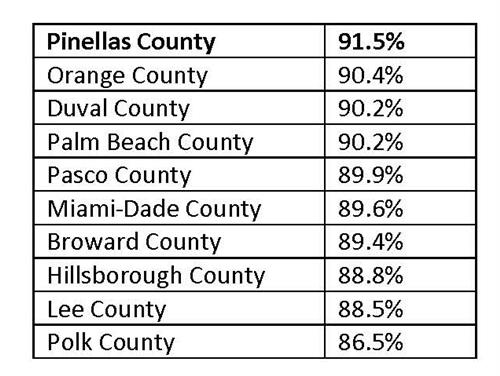 The district's Bridging the Gap plan continues to yield results and has helped produce the district's highest graduation rate among black students and the lowest gap in district history.
The graduation rate among black students for 2019-2020 rose to 85.5%, up 4.2 percentage points from the previous year and nearly 30 percentage points since the 2012-13 school year.
When the Bridging the Gap plan was instituted, the graduation gap between black and non-black students was 18 percentage points. This gap decreased by another 1.5 percentage points in 2019-2020 to 7.2 percentage points.
Hispanic students demonstrated a nearly six percentage point gain, increasing from 86.7% in 2018-2019 to 92.5% in 2019-2020. In addition, the graduation rate for English Learners increased to 91.9%. Both subgroups exceeded the district's overall graduation rate for the first time in history.
"These are more than numbers," said Pinellas County Schools Superintendent Michael Grego. "These graduation rates, along with our advanced course participation and SAT scores show that our students can follow their postsecondary dreams, no matter what they may be. Whether they want to attend an Ivy League university, a high-quality state school, technical college, serve in the military, or join the work force, Pinellas County Schools students are prepared for their next chapter. I am confident our graduates can successfully compete with any student in the country."
In addition to increased graduation rates, more students are taking advanced placement courses, with 71% of graduates taking at least one college-level course and nearly 14,000 AP exams taken in 2020. Also, 92% of graduates sat for the SAT or ACT during their high school career. 2020 graduates were accepted to a variety of schools, including Stanford, Harvard, Yale, Howard, Duke, the U.S. Naval Academy, Ringling College of Art and Design, Pinellas Technical College and all Florida universities.
Additional 2019-2020 highlights include:
Pinellas outpaced the state graduation rate by 1.53 percentage points.
The graduation rate for ESE students rose to 81.8%.
East Lake High School had the highest graduation rate in the district at 99.8%.
Pinellas Park High School showed the greatest improvement in its graduation rate, with an increase of 3.6 percentage points.
All traditional high schools earned graduation rates over 90% in 2019-2020.
The new Richard O. Jacobson Technical High School at Seminole conferred its first diploma.