Return to Headlines
Classroom support employee named district's Support Employee of the Year
Jan. 8, 2021
Tue Tran, a classroom support employee at M.K. Rawlings Elementary, was named the Pinellas County Schools 2020-2021 Support Employee of the Year. The announcement was made during a virtual ceremony that was held Friday, Jan 8. As a result, Tran will represent the district for the Florida School-Related Employee of the Year. He will also receive $300 from Achieva Credit Union, the event's sponsor.
"I am very honored for this award," Tran said after being announced the winner. "It's a great honor for me to represent my school and thank you for giving me the chance to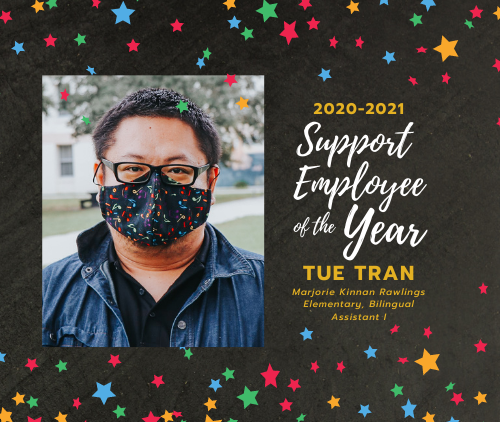 represent our county."
Tran has worked collaboratively with Mrs. Phi Nguyen in her general education class for six years as a bilingual associate. He is flexible with his curriculum and adjusts his teaching pace to meet the needs of all students. He offers support to students during his lunch break and after school.
Tran runs the school's Principal's Multicultural Advisory Committee (PMAC). With the PMAC, he creates activities that staff, facility, and students can incorporate within their classrooms. He leads and facilitates an after-school math club for students in the intermediate grade levels. Students enjoy his math club and are eager to share what they did the next day.
Tran extends himself beyond school grounds by volunteering several nights a week at the FACE IT (Families Acting Collaboratively to Educate and Involve Teens) program. He helps students between 12 and 18 years old learn about the consequences and effects of using or possession of alcohol, tobacco, and other drugs.
Friday's virtual event celebrated the value and importance of all the district's support employees.
"We have outstanding employees across the board," said Carol Cook, the school board's chairperson. "Without you, our system would fail. We really appreciate what you do and we do not take it for granted."
Superintendent Michael Grego echoed Cook's sentiments.
"Our district could not be the district we are today without our support employees," he said. "You are the glue."
Each Support Employee of the Year category finalists received $200 from Achieva Credit Union. The semifinalists for each category received $100. Achieva has been sponsoring this event for 26 years.