Return to Headlines
Eisenhower Elementary School teacher named Pinellas County Schools' Teacher of the Year
Jan. 21, 2021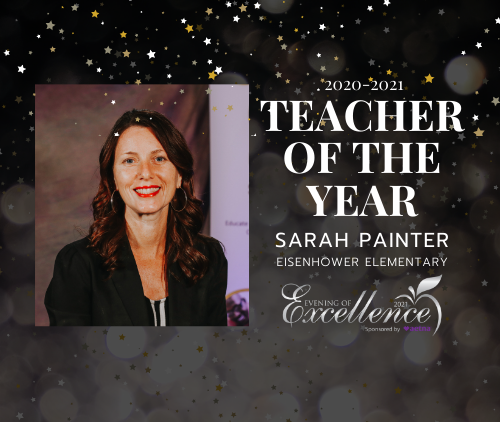 Sarah Painter was named the 2020-2021 Teacher of the Year for Pinellas County Schools Thursday night at the virtual Evening of Excellence hosted by the Pinellas Education Foundation.
Painter, a fifth-grade teacher at Eisenhower Elementary School in Clearwater, was among the 10 finalists selected from the 131 Teacher of the Year nominees. Those finalists were chosen by a panel of judges based on multiple criteria, and a different group of judges selected the winner in a second round of scoring. Painter will now be entered in the state Teacher of the Year competition sponsored by the Florida Department of Education.
"Being a teacher means serving others for the greater good," Painter said. "Once a Painter, always a Painter is a mantra we use in my classroom."
The message is that we are a family and will always be connected to one another throughout life's journeys, Painter said.
Painter holds a Bachelor of Science in Education from the University of South Florida, a Master's in Curriculum and Instruction from the University of Florida and is in her 18th year of teaching. She says that over 18 years her passion for teaching hasn't wavered.
"I tell them on the first day of school that my last name will forever be attached to them and that with that comes a reputation to uphold" Painter continued. "Painters are resilient. Painters are kind. Painters are persistent. Painters never give up. I became a teacher to leave behind a legacy."
The other Teacher of the Year finalists were Joycelyn Avery-Wright (Nina Harris ESE Center), Nicole Caltabellotta (74th Street Elementary), Karen Collier (Leila Davis Elementary), Heather Hole (Oak Grove Middle), Allison Jurado (Oakhurst Elementary), Mark Powers (Clearwater High), Jennifer Riddick (Fairmount Park Elementary), Gregory Stewart (East Lake Middle), and Kelly Webb (Palm Harbor University High).
Kourtney Chavez of James B. Sanderlin K-8 IB World School and Patricia Wing of John Hopkins Middle School were also honored as the district's Emerging Teachers of the year. This program brings recognition to exemplary new teachers who are in their second or third year of teaching. These teachers have demonstrated excellence through representation of the district's core values. Two teachers are selected, one from elementary and one from secondary.
"There is no better time to honor and recognize teachers than right now," said Pinellas County Schools Superintendent Michael Grego. "Through the dedication and commitment of teachers, students have continued to learn, and our community has continued to operate during these changing times."
| | |
| --- | --- |
| Evening of Excellence Teacher of the Year Award Show | IT Factor - Inspiring Teachers Video |