Return to Headlines
More than 50 Pinellas students earn top honors at the Future Business Leaders of America State Leadership Conference
April 2, 2021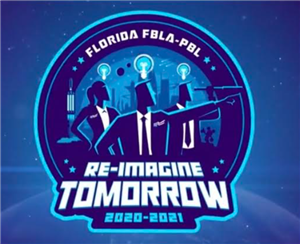 Florida high school students attended the virtual conference to enhance their business skills, expand their networks and compete in more than 70 business-related events.
Future Business Leaders of America Phi Beta Lambda, Inc. (FBLA-PBL) is a student business organization aimed at inspiring and preparing students to become community-minded business leaders.
In addition to the competitions, students participated in interactive workshops and listened to presentations from motivational speakers. Students who placed in the top four will be moving on to the virtual National Leadership Conference, which will take place in early July.
The following students and teams placed in the competitions. The awards are listed by school:
Carwise Middle School
Business Etiquette Middle Level – Mia Jarrell – Second Place
Business Math and Financial Literacy Middle Level – Julia Conciatori – Third Place
Digital Citizenship Middle Level – Connor Maquet – Third Place
Parliamentary Procedure Concepts Middle Level – Julia Kraszewski – Fourth Place
Gibbs High School
Cyber Security – Quinton Cummings – First Place
Lakewood High School
Political Science – Brian Tran – First Place
Sports Entertainment Management – Robert Shedden, Alex Shim-Huang, & Ryan Smith – Second Place
Computer Game & Simulation Programming – Endri Pashollari, David Tran, & Julian Gonzalez – Third Place
Public Service Announcement – Aaliyah Ball & Audrey Long – Third Place
Journalism – Maya Rish – Fourth Place
Mobile Applications – Zachary Pavelski, Jeremy White Jr., & Benjamin Sam – Fourth Place
Largo High School
Intro to Financial Math – Elise Tong – Third Place
Madeira Beach Fundamental School
Elevator Speech Middle Level – Malachi Bartlett – Second Place
Osceola Fundamental High School
Graphic Design – Madison Taylor & Juanita Ruan – First Place
Hospitality & Event Management – Andriana Detsis, Rachel Nuyten, & Tommy Wynne – First Place
Word Processing – Nellie Moore – Second Place
Graphic Design – Ashley Percifield, Kayla Hibberd, & Abigail Moore – Third Place
Networking Infrastructures – Ethan Kocses – Fourth Place
Publication Design – Kylie Sutherland, Ella Edmiston, & Abbe Edmiston – Fourth Place
Word Processing – Elijah Byrne – Fourth Place
Broadcast Journalism – Vega Scholpp – Fifth Place
Palm Harbor University High School
Digital Video Production – Alex Kranias – First Place
Help Desk – Lillian Ghozali – First Place
Intro to Business Communication – Janet Liu – First Place
Intro to Parliamentary Procedure – Alyssa Abraham – First Place
Journalism – Erin Behrmann – First Place
Future Business Leader – Vaarun Ramanathan – Second Place
Intro to Business Communication – Melinda Liu – Second Place
Intro to Parliamentary Procedure – Lucas John – Second Place
Community Service Project – Chapter Project – Third Place
Organizational Leadership – Rachel Warren – Third Place
Intro to Social Media Strategy – Marta Szymanska – Fourth Place
Partnership with Business Project – Chapter Project – Fourth Place
Intro to Public Speaking – Aanya Bhandari – Fifth Place
Job Interview – Alice Messiah – Fifth Place
Who's Who in FBLA – Jennifer Lawrence – Finalist
Pinellas Park High School
E– Business – Smith Myranda, Julia Lane, & Caleb Sandige – Second Place
St. Petersburg High School
Intro to Public Speaking – Riley Hemmel – Second Place
Thurgood Marshall Fundamental Middle School
Elevator Speech Middle Level – Josiah Walker – Fourth Place