Return to Headlines
Independent oversight committee reviews Referendum spending
May 5, 2021

The Independent Citizens Referendum Oversight Committee (ICROC) met Tuesday, May 4. The committee meets four times a year to ensure that money collected through Pinellas County Schools Referendum is spent as voters intended.
Referendum funds strengthen reading, art and music programs; provide up-to date technology and textbooks; and help recruit and retain quality teachers. Eighty percent of Referendum revenue funds a salary supplement for teachers. This year's supplement is $5,231.
At the ICROC meeting on Tuesday, staff members from various departments shared updates on resources and opportunities funded by the Referendum.
Jonathan Ogle, PK-12 Visual Arts Specialist, shared that the Referendum has enabled our students to create art in the classroom and at home, providing art supplies for in person and virtual students. He also highlighted a mural project at Osceola Middle School that is helping students release stress and spread positivity.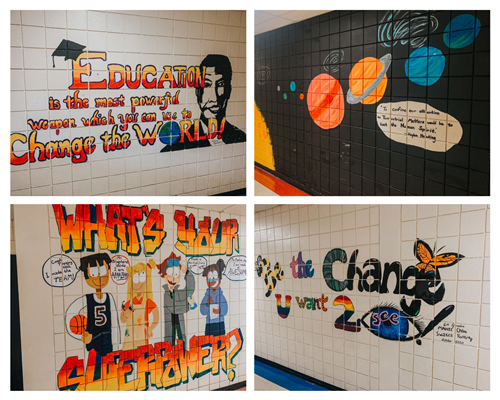 During our first semester, 22 teachers completed visual arts technology integration training. And, this summer, the district plans to host 17 summer art camps, including three virtual ones.
The Referendum has led to improved resources and training that have raised the level of student artwork. This year, Pinellas students won 17 National Scholastic Art & Writing Awards. The competition is the nation's longest-running and most prestigious recognition program for creative teens.
PK-12 Performing Arts Specialist Ajori Spencer shared how the district discovered a way to reimagine it's All County music program during the pandemic, hosting the All County Music Fest at Seminole City Park.
This year, he said, 77 teachers have taken or registered for music technology integration training, which had traditionally taken place during the summer. The Referendum also funds a special summer music camp called Camp Ignite. So far, 160 students have registered for the camp, which drew 40 to 50 students its first year.
Reading specialists shared how Referendum funds strengthen Pinellas reading and writing programs.
Each school receives funds to ensure they have the reading resources they need, said Holly Slaughter, Elementary Reading and Language Arts Specialist.
Referendum funds also provide coaching support for small-group literacy instruction and Phonics Project materials for every K-2 teacher.
Through the Referendum, she said, the school district is collaborating with the University of Florida Lastinger Center to provide professional development and coaching to support K-2 educators, with a special focus on struggling readers.
Students throughout the district are learning the craft of writing from local authors and experts, including Roy Peter Clark and Kyle Prue. Middle and high school reading specialists Beth Anderson and Jennifer Duda shared highlights of those virtual sessions.
Technology Integration Coordinators have been on the "front line," enabling our teachers to provide digital lessons, said Director of Library, Technology and Instructional Materials Connie Kolosey. She provided a brief presentation of Canvas, a Referendum-funded learning management system.
Additional Referendum resources include:
New and updated furniture for art classes
Field trips to museums, galleries and art venues
Tablets, cameras and printers for student use
Matching funding to provide students with online access to digital books
Artist in residence and teaching artist programs
The continuation of the Computer Technology Integration Project for 28 additional teachers at 14 schools
See Quarter 2 Reports and meeting materials.
The Referendum has helped our instrumental All County groups grow. See one of the All County Music Fest performances below. View more on our PCS YouTube Channel.