Return to Headlines
Pinellas County Schools teacher Sarah Painter is a 2022 Florida Teacher of the Year Finalist
May 6, 2021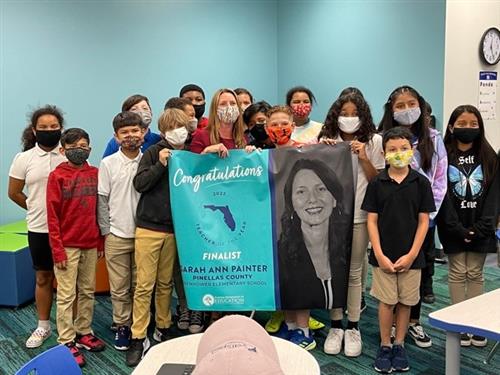 Today, the Florida Department of Education announced that Eisenhower Elementary School teacher Sarah Painter is a 2022 Florida Teacher of the Year finalist. The announcement was made during a surprise visit to her school.
Sarah, a fifth-grade teacher at Eisenhower Elementary, is in her 18th year of teaching. She organized common planning and collaboration for fifth-grade teachers throughout the district and created an open-door policy for colleagues to observe her instructional practices. She is the chairperson for the School Advisory Council, the representative for English language arts and the school liaison for the extended school day program. She holds a Bachelor of Science in Education from the University of South Florida and a master's degree in Curriculum and Instruction from the University of Florida.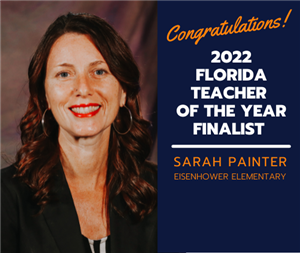 "I am incredibly proud that Sarah Painter is a finalist for Florida Teacher of the Year, but I am not surprised," said Pinellas County Schools Superintendent Dr. Michael A. Grego. "Mrs. Painter is an exceptionally talented, focused and caring educator who brings joy to her students and families every day, and continuously sparks their desire to achieve excellence."
"The Pinellas Education Foundation is so proud to support Mrs. Painter and all Pinellas County Schools teachers," added Pinellas Education Foundation CEO Dr. Stacy Baier. "Teachers have been extraordinarily dedicated over the past year. Mrs. Painter's message of working through obstacles and finding joy in the process exemplifies the very best in the teaching profession."
"My congratulations to Sarah Ann Painter as one of five 2022 Florida Teacher of the Year state finalists, said Commissioner of Education Richard Corcoran. "Sarah's devotion to her students will continue to mold them into the best that they can be and give them the tools needed to become successful. It is an honor to have teachers like Ms. Painter in our state's education system."
Sarah Painter was named Pinellas County Schools Teacher of the Year in January. Earlier this year, she described her teaching philosophy, saying she wants her students to feel successful and set high goals for themselves. It's okay to take occasional breaks, she tells them, but not to give up. Her message to her students is that they are a family – once a Painter always a Painter - and will always be connected. It's motivating to know that she is changing lives, she said.
Her students describe her as kind, loving and fun. And they say she inspires them to learn.
"Through Ms. Painter's passion, high expectations and relational teaching approach, tremendous growth will be achieved in each of her scholars," said Eisenhower Elementary School Principal Antoinette Wilson.
This year's five 2022 Teacher of the Year state finalists were chosen from more than 185,000 public school teachers throughout the state. A selection committee reviews each district's application and chooses top candidates based on outstanding ability to teach and communicate knowledge of the subject taught, professional development, philosophy of teaching and outstanding school and community service. The winner will also serve for one year as the Christa McAuliffe Ambassador for Education.