Return to Headlines
Pinellas students shine at the National History Day competition
July 9, 2020
A St. Petersburg High School student and two Dunedin Highland Middle School students were recognized at the virtual NHD ceremony on June 20. This year's theme was "Breaking Barriers in History."
Victor Xie, who will be a senior at St. Petersburg High School next year, won third place for his paper, "Breaking Barriers to Provide Food, Freedom, and a Future: The Berlin Airlift's Quest to Beat the Blockade." He has been competing in NHD competitions since sixth grade.
Dunedin Highland Middle School students, Raegan Matthews and Reagan Fitzgerald, won a World War I special prize for their junior group documentary, "Operation Breaking Gender Barriers: The Hello Girls in World War I." The award is sponsored by U.S. World War I Centennial Commission.
"NHD was a wonderful experience," said Victor. "It has definitely helped me grow as a person and helped me grow my skillset."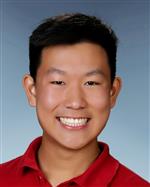 Victor relishes the experience each year and especially enjoys discovering people in history that may not be well-known but had a major impact on history.
He is so passionate about history that, during distance learning this spring, he taught his own history class on Zoom to students from throughout the U.S. He wanted to connect with other kids that had the same "innate and burning desire to learn more about history."
Pinellas History Day has been one of the best organized extracurricular activities in the county, said Victor's father, Lin Xie, who made sure to thank Victor's teachers and NHD administrator, Michelle Anderson, for supporting his son's success.
T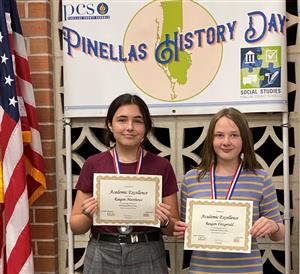 eresa Bergstrom, Raegan and Reagan's history teacher at Dunedin Highland Middle, was "thrilled" about her students' performance in NHD even though she focuses on the experience rather than the recognition.
From the beginning of the school year through spring, her students worked diligently, researching and preparing projects for district, state and national-level competitions. Winning the award is the "icing on the cake," she said, and with all the levels of preparation, winning the national prize was like "four layers of icing."
More than a half-million middle and high school students entered the competition, and just under 3,000 advanced through local and state competitions to earn their place in the NHD Contest. Because of the current health crisis, the competition was held virtually.
"To make it to the national contest in a normal year is a remarkable achievement," said NHD Executive Director Dr. Cathy Gorn in an announcement about the contest. "Given the unprecedented challenges that faced students over the last several months, I am even more impressed by what they achieved this year."
See Raegan and Reagan's award-winning documentary: