Return to Headlines
East Lake High art teacher named Pinellas County Schools Teacher of the Year
Jan. 26, 2022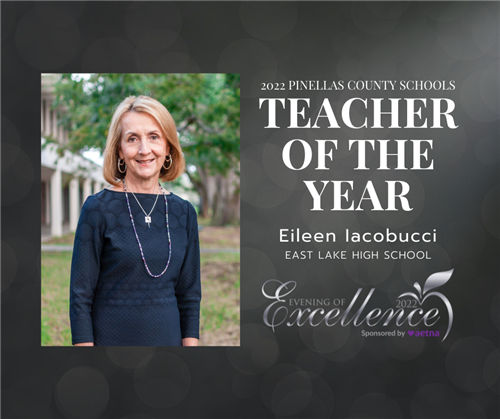 Eileen Iacobucci was named the 2021-2022 Pinellas County Schools Teacher of the Year at tonight's Evening of Excellence ceremony. The event, which honored all 131 Teacher of the Year nominees, was hosted by the Pinellas Education Foundation at the Mahaffey Theater.
Mrs. Iacobucci, whose career spans four decades, will be entered in the state Teacher of the Year competition sponsored by the Florida Department of Education.
"I love my job," she said in her featured interview at the event. "I have always wanted to be an art teacher. I think the visual arts are something that every student needs to have from kindergarten through 12th grade."
Since 2007, Mrs. Iacobucci served as a Visual Arts teacher at East Lake High School, where she is the department chair. As an educator, she is focused on mentoring new teachers, advocating for the visual arts in education and letting her students shine.
At the event, one of her students, Luna Garcia, described Mrs. Iacobucci as "a magnet that pulls in students and pushes them to reach their potential."
She nurtures her students' talents, fosters their love of the arts and encourages them to use the arts to express themselves. She seeks to showcase her students' artworks at as many venues as possible, so they and their families have abundant opportunities to celebrate their artistic achievements.
"It is incredibly rewarding to see a student who didn't think they had artistic abilities suddenly develop confidence in their craft," she said. "It is equally exciting to see my advanced students excel in their work, often winning top awards for their efforts in the county and state exhibits."
Mrs. Iacobucci grew up in a family of educators. Her father was an elementary school principal, her grandfather was a high school science teacher, and one of her sisters is a kindergarten teacher.
She earned her Bachelor of Fine Arts degree in Art Education from the University of Massachusetts at Dartmouth and her Master of Education degree from Cambridge College.
Her teaching career began in 1979 in Massachusetts, and she joined the district as an art teacher in 1998. Before landing her "dream job" at East Lake High, she also taught at Sunset Hills Elementary, Lake St. George Elementary and Palm Harbor Middle.
"Each day Eileen Iacobucci shows the critical role arts education plays in schools. She uses the arts to teach her students life skills that will help them succeed long after graduation," said Dr. Michael Grego, Pinellas County Schools Superintendent. "She also acts as a mentor and pushes her students to reach their full potential. We celebrate her and all of our teachers for their hard work and commitment and ask the community to celebrate them as well."
Mrs. Iacobucci was one of 10 finalists selected for the Teacher of the Year honor.
The other Teacher of the Year finalists were Bonnie Capra of Pinellas Technical College- St. Petersburg, Lorna Kelley of Tyrone Middle School, Sarah Swoch of Pinellas Park Middle School, Justin Howard of Campbell Park Elementary School, Esvicloria Blasingane of Pinellas Secondary School, Catalina Andujar of Eisenhower Elementary School, Melissa Walls of Safety Harbor Elementary School, Ivana Grant of Richard O. Jacobson Technical High School at Seminole, and Deanna Russo of Seminole High School.
Each of the finalists will receive an array of prizes, including a $500 cash award from the Pinellas Education Foundation, Publix gift cards to use for their classrooms, Rowdies tickets, an opportunity to be hosted in a Tampa Bay Rays suite, and a $1,500 scholarship from Nova Southeastern University.
On Thursday morning, our Teacher of the Year will be driven to school in style courtesy of His & Hers Limousines. Her other gifts will include a $7,500 furniture package from Kane's Furniture, a $5,000 classroom grant from the Maurice A. & Thelma P. Rothman Family Foundation, $5,300 for The F. Kiernan Schoonmaker Educator of the Year Award at the Pinellas Community Foundation, a $1,000 cash award from the Pinellas Education Foundation, a $500 gift card from Aetna, $200 in Publix gift cards for her classroom, an Outstanding Educator Ring from Balfour, a private suite and recognition at Rays Up For Education Night at Tropicana Field.
Natalie El Amrani of Melrose Elementary and Gabrielle Medina of Tarpon Springs Middle were also honored as Emerging Teachers of the Year, which recognizes exemplary teachers in their second or third year of teaching.
| | |
| --- | --- |
| Inspiring Teacher Video | Evening of Excellence Video |