Return to Headlines
Pinellas County School Board approves contract for Kevin K. Hendrick to serve as the district's next superintendent
June 14, 2022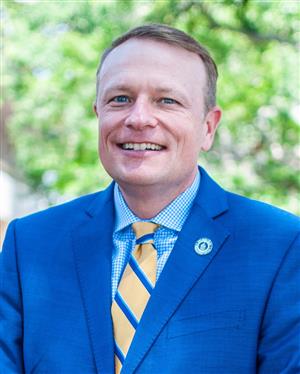 In a unanimous vote, the Pinellas County School Board approved a contract for Kevin K. Hendrick to serve as the district's next superintendent. Mr. Hendrick will replace Superintendent Dr. Michael Grego who retires after 10 successful years as the district's leader. Mr. Hendrick, who currently serves as Associate Superintendent of Teaching & Learning, will take the helm as superintendent on July 1. His employment agreement with the district runs through June 30, 2025.
"I am excited to serve as Pinellas County Schools new superintendent," said Mr. Hendrick. "I am eager to collaborate with staff, families and community members to continue the great work of the past decade and lift the district to the next level as a top-performing district. Together, we can build a climate and culture of excellence that fosters student and community engagement and ensures that all students are prepared for college, careers and life."
"Today is a great day for Pinellas County Schools," said School Board Chair Eileen Long. 'While we will miss Dr. Grego, we are excited about Mr. Hendrick's vision and confident in his ability to move the district to the next level. Our students and community will benefit from his experience, and his calm and steady leadership."
Mr. Hendrick has a proven record of improving student achievement, working collaboratively, and building cultures of excellence. He has served five years as the district's Associate Superintendent of Teaching & Learning Services. During his leadership, Pinellas County Schools achieved a record-high graduation rate, topping Florida's largest school districts, and increased academic performance in Mathematics and English Language Arts.
Mr. Hendrick began his career in education 24 years ago as a math teacher at Pinellas Park High School. He also served as the Director of High School Education. He spent nine years as the principal of Northeast High School. Under his leadership, the high school consistently performed at a high level, earning the first A and B grades in the school's history and receiving national recognition for preparing students for college and careers.
Mr. Hendrick will serve as the 18th superintendent in the district's 110-year history. He graduated from Largo High School and has lived in the Pinellas County community for over 35 years. View Mr. Hendrick's resume and his Entry Plan.
The nationwide search for the next superintendent spanned five months. The board narrowed the field from 19 applicants down to three finalists. The search included several community forums, surveys, board work sessions and finalists' interviews that were livestreamed for public access. Last month, Board members unanimously selected Mr. Hendrick as their top choice and decided to move forward with contract negotiations.