Return to Headlines
The application period for prekindergarten programs opens Nov. 28
Nov. 17, 2022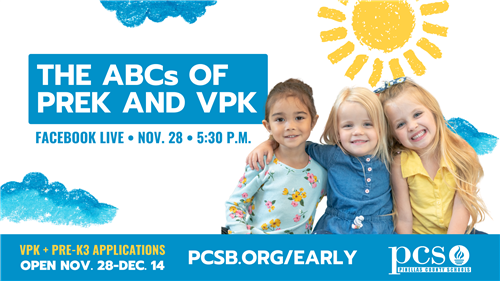 The district has announced new free options for 2023-2024 for full-time PCS employees and VPK families who qualify for free or reduced-price meals.
PreK 3 and full-day VPK will be free for children of all full-time PCS employees at our elementary school sites. Our Employee and Community Preschool sites at Largo and Countryside high schools will offer a discount to full-time PCS employees.
Families who qualify for free or reduced-price meals according to the annual Florida Income Eligibility Guidelines will qualify for free full-day VPK.
Parents can apply for Pre K3 and VPK for next school year from Nov. 28 through 5 p.m. on Dec. 14. During the application period, families can apply at reservation.pcsb.org.
PreK 3 is for children who will be 3 by Sept. 1 of the year they will attend PreK. VPK is for children who will be 4 by Sept. 1 of the year they will attend VPK.
Invitations will be sent to families who apply on Dec. 16. At that time, families will be able to accept a seat in one of our schools for the 2023-2024 school year.
Parents will be able to log back into the student reservation system to accept a seat from Dec. 16 through Jan. 13. They must accept an invitation to keep a seat.
The new timeline will help families find out earlier which program their child will attend next school year. Parents will also have more time to work with Early Childhood Education to secure a seat if their child is on a waitlist.
Research shows that children who participate in high-quality prekindergarten programs are more prepared for kindergarten, have better school attendance rates, perform better on standardized tests, and develop lifelong social and emotional skills.
Families interested in VPK will also need to apply for a Certificate of Eligibility (voucher) from the Early Learning Coalition beginning Jan. 1, 2023.
The school district will host a live online event to walk families through the application process at 5:30 p.m. on Nov. 28.
Prekindergarten YouTube and Facebook Live Event: "The ABCs of PreK: Enrolling in Prekindergarten For 3 and 4 Year Olds"
If you miss the session or want to review details, the presentation will be available after the event, too.
To learn more about both PreK 3 and VPK opportunities, visit www.pcsb.org/early or call 727-588-6513.