Return to Headlines
Pinellas County Schools is innovating science education to meet the needs of the next generation
Dec. 9, 2022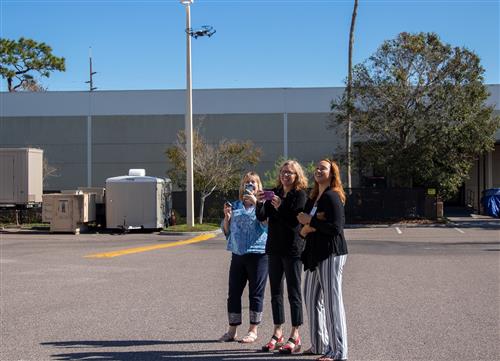 This week, middle school science teachers took part in a collaborative STEM learning opportunity hosted by the Innovation Foundation. It's one of several training sessions since a pilot program kicked off in August.
About two dozen teachers from six schools are participating in the pilot. The schools include James B. Sanderlin IB World School, and Bay Point, Seminole, Pinellas Park, Palm Harbor and Carwise middle schools.
Founded by Cathie Wood of ARK Invest, the St. Petersburg-based Innovation Foundation curriculum is designed to empower students to lead their own learning, apply their knowledge, and discover ways to solve new problems.
Teachers have been using the new curriculum since the beginning of the school year, and they like what they've seen.
"Kids are naturally inquisitive. They are curious about everything. That's what science is all about," said Palm Harbor Middle School teacher Dan Scharaldi. "It's a long-overdue needed change in how we think about school and education."
"I'm extremely excited that the school district is making a transition to project-based and hands-on learning," said Pinellas Park Middle School teacher Brian Walters. "It's fun to see the students interact with each other."
Lessons are aimed at solving real-world problems and giving students ownership of their learning.
"The students absolutely love it," Walters said. "It's interactive, and we can make it relate to their individual lives."
Units include:
Redesigning school lunch
Designing healthy glow-in-the-dark food
Using wearable health technology
Designing a personal greenhouse
DIY water purification system
Using drones to understand storms
Building longer lasting batteries
Increasing access to music
Lara McCullough, a teacher at Seminole Middle School, said the Innovation Foundation has treated the teachers like VIPs and provided them with all the necessary materials, projects and support.
"We were able to come in and get to work immediately," she said.
At this week's training, the teachers recapped their experiences and worked collaboratively on plans for upcoming lessons. They also learned the basics of flying drones.
Pinellas Park Middle teacher, Monique Roberts, found that the curriculum is even appealing to students who are more challenging to engage.
"It really engages them when there is something personal to them," she said. "They get ownership of it."