Return to Headlines
Pinellas teacher named 2023 National Special Education Teacher of the Year
jan. 19, 2023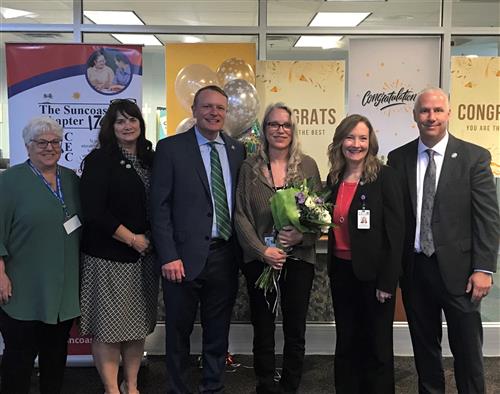 Dr. Kristie Jo Redfering, a special education teacher at Nina Harris Exceptional Student Education Center, has been named the 2023 Teacher of the Year Award by the Council for Exceptional Children.
The award recognizes outstanding teachers who provide direct services to young people with exceptionalities and who demonstrate the best qualities in supporting students with disabilities and/or gifts and talents.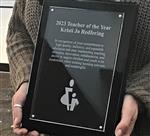 "She is the finest model for new teachers to learn from. She believes in the growth of her students," said Nina Harris ESE Center Principal Jacqueline Cassidy, who nominated Dr. Redfering's for the award. "There is simply no job too big or too small for Dr. Redfering. She exemplifies all that it means to be a dedicated teacher, mentor, and leader each and every day."
On Wednesday, Jan. 18, the National CEC team surprised Dr. Redfering in her classroom to inform her that she was selected as the National CEC Teacher of the Year.
"Dr. Redfering is the perfect example of a dedicated, passionate educator who cares about the success of her students," said CEC President Angie Jasper in a press release. "It's an honor to recognize her as someone who bridges the gaps across her school and community to help her students grow."
Dr. Redfering knows her students well, and strategically creates the ideal learning environment for them. Her lessons involve individualized communication systems, independent functioning skills, and social/emotional skills. She has developed specific activities to accommodate each of her student's needs.
An outstanding example of Dr. Redfering's talent and dedication is the Suds Club, which is for high school students who are preparing for an extended transition program. Students use high and low technology systems to take part in a multi-step laundry service at the school. Dr. Redfering works with fellow teachers and professionals to ensure the students have every means of support necessary so they can practice skills, such as written and verbal communication, multi-step processes, social skills and financial skills.
Her impact extends beyond her school. Dr. Redfering opens her classroom to fellow professionals so they can learn how to implement similar strategies.
As the 2023 CEC Teacher of the Year, Dr. Redfering will receive a $2,000 cash prize, $1,000 classroom grant, and travel and accommodations to attend the CEC annual convention in Louisville, where she will be recognized in front of her peers.
See the announcement from the National Council for Exceptional Children.