Return to Headlines
Fifteen Pinellas schools win national Merit Awards from Magnet Schools of America
Jan. 31, 2023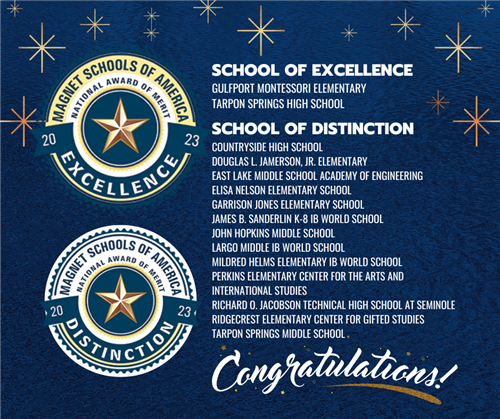 The achievement marks the highest number of Merit Awards that the district has earned from MSA.
Two of Pinellas schools have been honored as Schools of Excellence, MSA's top Merit Award category, only awarded to a select group of magnet schools. Thirteen have been honored as Schools of Distinction, the second highest recognition.
"Pinellas County Schools is proud to have a record number of schools achieving this prestigious honor – again," said Ellen M. Truskowski, the district's director of Student Demographics, Assignment and School Capacity. "I am thrilled that each year more of our programs earn national recognition for specialized themes and innovative approaches to instruction that prepare students to be workforce and college ready."
Pinellas County Schools offers more than 80 magnet and fundamental programs, focused on students' interests, talents and abilities.
The district is proud to announce this year's winning schools.
Merit Award of Excellence Winners:
Gulfport Montessori Elementary School
Tarpon Springs High School Leadership Conservatory for the Arts
Merit Award of Distinction Winners:
Countryside High School (Institute for Science, Technology, Engineering & Mathematics)
Douglas L. Jamerson, Jr. Elementary School (Center for Mathematics & Engineering)
East Lake Middle School Academy of Engineering
Elisa Nelson Elementary School (Center for Gifted Studies and Center for Literacy Innovation)
Garrison-Jones Elementary (Dual Language Immersion)
James B. Sanderlin K-8 IB World School
John Hopkins Middle School (Center for the Arts, Journalism and Gifted Studies)
Largo Middle IB World School
Mildred Helms Elementary IB World School
Perkins Elementary Center for the Arts and International Studies
Richard O. Jacobson Technical High School at Seminole
Ridgecrest Elementary Center for Gifted Studies
Tarpon Springs Middle School (Cambridge Conservatory for Academics & the Arts)
MSA is a national nonprofit professional education association. To receive a national Merit Award, a school must submit a detailed application to Magnet Schools of America. Schools are scored on their demonstrated ability to raise student academic achievement, promote racial and socioeconomic diversity, provide integrated curricula and instruction, and create strong family and community partnerships that enhance the school's magnet theme.
The award-winning schools will be recognized at the Magnet Schools of America's 40th National Conference, which will take place April 18-22, 2023, in Dallas.
Learn more about Pinellas County Schools magnet programs at www.pcsb.org/dap.