Return to Headlines
Fifth graders honored for their design talents at the Kids Tag Art ceremony
Jan. 31, 2023
More than 150 Pinellas students were recognized for creating front license plate designs through the Kids Tag Art Program.
The program is a partnership between the school district, the Pinellas County Tax Collector's Office and generous community sponsors.
The ceremony took place at Largo High School. More than 400 students, teachers and parents attended the event, which was also live-streamed.
The Kids Tag Art Program gives 5th-grade students the opportunity to become real-world designers in their art classes. Since the program was launched in 2015, Kids Tag Art has raised more than $280,000 for elementary art programs.
"Although the main purpose of the program is to raise money for local elementary art classrooms, this event is my favorite part of the program," said Pinellas County Tax Collector Charles W. Thomas. "It is truly rewarding to see the excitement on the students' faces! It's wonderful to be able to celebrate these students and their achievements."
The Tax Collector Choice Award, the highest award of the program, is personally selected by Thomas. This year's winner was Lilyanna Gonzalez from Plumb Elementary.
"Selecting a winner is never easy because there are so many amazing creations. However, I ended up selecting Lilyanna's frog design because, not only does it remind me of the tree frogs we see here in Pinellas, but it's obvious she spent a lot of time on this due to the attention to detail and all the great shading work."
Each year, Mr. Thomas personally orders his winner's tag to be placed on the front of his vehicle for a year.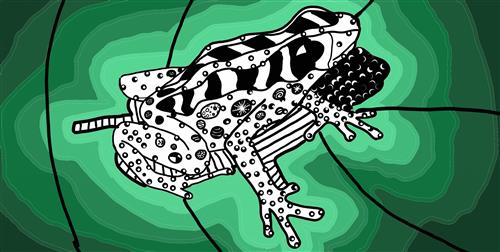 Program sponsors also selected student winners, either by choosing a favorite from the Award of Excellence designs or by submitting a fun theme.
Congratulations to the Sponsor Choice Award winners:
Student winners
Daniella Trauscht, Westgate Elementary – Tag Agency of Pinellas Sponsor Choice Award
Madison Wheaton, Gulf Beaches Elementary – MicroLumen Sponsor Choice Award
Makenna Buchans, Seminole Elementary – FL Heart Research Foundation Sponsor Choice Award
Sunnie Randolph, Starkey Elementary – DPrint Sponsor Choice Award
Tess Meyer, Ridgecrest Elementary – City of Largo Sponsor Choice Award
Adrian Bueno, Safety Harbor Elementary – Pinellas County Sheriff's Office Sponsor Choice Award
Daniel Mihalinec, Anona Elementary – Office Worx Sponsor Choice Award
Daniel Nguyen, Brooker Creek Elementary – Lauren's Kids Sponsor Choice Award
Cali Cole, Bear Creek Elementary – Grant St. Group Sponsor Choice Award
Teacher winners:
Lauren Regan, Plumb Elementary – 1st Place Teacher Contest Winner
Shannon Livingston, Brooker Creek Elementary – 2nd Place Teacher Contest Winner
Lauren Moon, Sawgrass Lake Elementary – 3rd Place Teacher Contest Winner