Return to Headlines
12 Lakewood High School football players sign college and military contracts
Feb. 2, 2023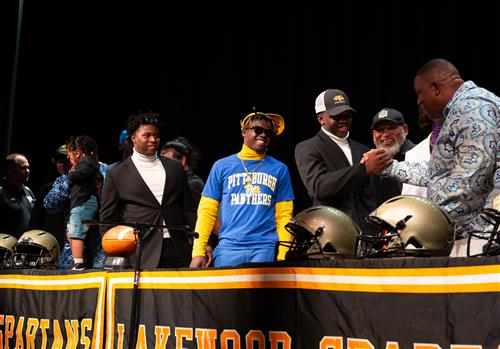 According to St. Petersburg Mayor Ken Welch, who played left tackle on Lakewood High School football's championship team in 1980, once a Spartan, always a Spartan.
"Those bonds last you for life," said Welch, who attended Lakewood's National Signing Day in the school's auditorium Wednesday evening. "What Coach (Cory) Moore is doing here is special. "Of course, he is focused on athletics, but he is building young men."
Twelve players gathered on stage to thank their families, coaches, teammates and teachers and announce their plans for the next steps in their athletic and academic careers by signing Letters of Intent. Lakewood's football program is notorious for churning out college-level athletes, regularly signing dozens to programs all over the country.
Also in attendance were Superintendent Kevin Hendrick, Pinellas County Schools Athletic Director Al Bennett, St. Petersburg College President Dr. Tonjua Williams and Area 3 Superintendent Dr. Dywayne Hinds.
Keesha Jenkins was proud to watch her son, linebacker Cedric Augustin, sign with Tennessee Tech University.
"I knew something was different when he wanted to play tackle (football) instead of flag when he was 5 years old," said Jenkins. "He's broken the family curse. He's the first one to play Division 1 on a full scholarship."
Chamberlain Campbell, who, at 6'7", always played basketball, transferred from Shorecrest Preparatory School to play football at Lakewood his senior year at the urging of Coach Moore. He had never stepped onto a football field until two weeks before school started. He is now signed as a defensive tackle at Ole Miss.
"Football really brought him out of his shell," said Campbell's mom, Lynda Rowe-Campbell, who added that her son is a voracious reader and exceptional student. "I guess Coach Moore was right!"
Moore calls Campbell a "beautiful canvas."
"He has great grades, he's a great young man. When you look at the NFL, they are looking for kids just like him," Moore said. "He's going to be playing on Sundays one day."
If that's the case, Moore can add him to his list of former players who are now NFL standouts. Marcellus Scantling, whose son Marquez Valdes-Scantling will be playing in the Super Bowl with the Kansas City Chiefs on Feb. 12, is still the defensive backs coach with Lakewood's program and was also on hand for signing day.
"I appreciate being able to connect with these kids and help them start to define their lives on and off the field," said Scantling who added he will be "enjoying the moment" watching Marquez on Super Bowl Sunday.
Mayor Welch ended the night by congratulating the signees but also urging them to continue to pursue great things. Moore echoed the sentiment.
"This is a special crew," Moore said. "I think they symbolize hope for not only our school but also our community."