Return to Headlines
Azalea Middle School teacher Adam Zele is Pinellas County Schools Teacher of the Year
Feb. 8, 2023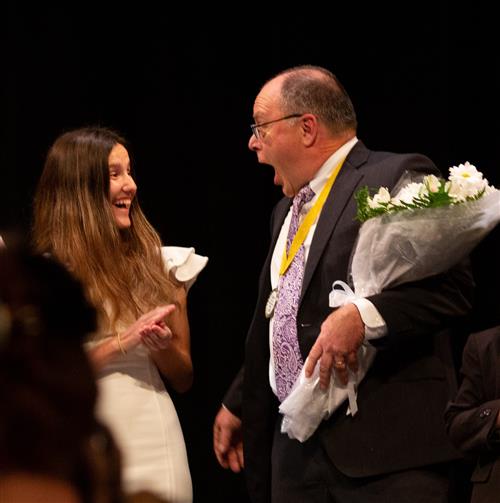 Dr. Adam Zele, a math teacher at Azalea Middle School, was named the 2023 Pinellas County Schools Teacher of the Year at the Evening of Excellence ceremony.
The event, which honored all Teacher of the Year nominees, was hosted by the Pinellas Education Foundation at the Mahaffey Theater.
Dr. Zele will be entered in the state Teacher of the Year competition, sponsored by the Florida Department of Education.
"Get started today making a better tomorrow" is his motto. Teaching is an opportunity, he says, to help develop lives, to change lives, to mentor, to care.
After the announcement, Dr. Zele praised other teachers as well as three of his students who joined him on stage.
"I love being a teacher, " Dr. Zele said. "Being a teacher is the greatest honor of my life. Getting to work with people like these three young ladies up here is a privilege beyond words."
Dr. Zele worked in several professions before becoming a teacher. Dr. Zele was an entrepreneur, a financial consultant, a college professor and a church pastor. He slowly realized the teaching aspects of every position were what he enjoyed most. That led him to pursue a career in education.
He earned his Bachelor of Science degree in Economics from the University of Pennsylvania and earned his Master of Divinity from Duke University, where he also earned his Doctor of Philosophy degree in history and religion.
"Math teacher Adam Zele finds innovative ways to enhance the student experience in the classroom. His students enjoy learning and he creates engaging and memorable lessons and connections each day," said Pinellas County Schools Superintendent Kevin K. Hendrick. "Dr. Zele's passion for teaching and dedication to students extends to his families and coworkers. We celebrate him and all of our teachers for their hard work and commitment to achieving 100% Student Success."
At the event, one of his former students, Julia Mara, shared that Dr. Zele transformed her life. He integrates games into his lessons and will do whatever it takes to ensure students understand new concepts. He is also there for students if they are struggling with low confidence or are having a bad day, she said.
"What makes him stick out is his heart, more specifically his desire to help," said Julia, a junior in the IB program at St. Petersburgh High. "...I hope, after tonight, he realizes how much of an impact he has made on all of his students."
Since 2017, Dr. Zele has served as a math teacher at Azalea Middle School, where he is math department chairperson. He currently teaches Pre-Algebra, Algebra and Geometry to seventh- and eighth-grade students. He has a reputation for making math lessons fun. It's not unusual to see Dr. Zele in costume, using props to teach complicated topics and create memorable connections, according to Azalea Middle School Principal Susan Alvaro.
He currently mentors four students through the Pinellas Education Foundation's Take Stock in Children program and is committed to supporting them through high school graduation.
Dr. Zele tutors students before and after school, Monday through Friday. He also created a unique program to support parents. Dr. Zele discovered that many parents struggle to help their children with algebra because they either don't understand it or don't remember it. To solve that problem, he offers Saturday algebra classes for parents at locations that are convenient for his families.
His care for his students and families is unquestionable, but he is also a mentor to new educators. He is the lead mentor at Azalea Middle, matching new teachers with mentors and mentoring teachers himself.
He is also active in several school committees and community service organizations.
Dr. Zele was one of 130 teachers chosen as Teacher of the Year by their schools and one of 10 finalists selected for the Teacher of the Year honor.
The other Teacher of the Year finalists were Rebecca Byrne of Azalea Elementary, Jerry Cantrell of Seminole High, Amber Holmes of Melrose Elementary, Dana Ingebresten of Boca Ciega High, Rachel Mita of Sandy Lane Elementary, Jaclyn Reyes of Cypress Woods Elementary, Shelli Sorensen of Osceola Middle, Nicole Szydlowski of Seminole Middle, and Courtney Thompson of Nina Harris ESE Center
Each of the finalists will receive an array of prizes, including a $500 cash award from the Pinellas Community Foundation, a $1,000 classroom grant from the Pinellas Education Foundation and a special experience at an upcoming Rays game.
On Thursday morning, Dr. Zele will be driven to school in style courtesy of His & Hers Limousines. Among other gifts, he will receive a 5-night Hawaiian getaway, courtesy of Astro Skate Family Fun Center; a luxury weekend car rental from Crown Automotive; a $7,500 furniture package from Kane's Furniture; a $5,000 classroom grant from the Maurice A. & Thelma P. Rothman Family Foundation; a $3,000 cash award from the Pinellas Community Foundation; a $1,000 cash award from the Pinellas Education Foundation; an Outstanding Educator Ring from Balfour; and a special experience at Rays Up for Education Night at Tropicana Field.
At the event, Floyd Howze of Lealman Avenue Elementary School and Faun Baldizzi of Tarpon Springs Middle School were also honored as Emerging Teachers of the Year, which recognizes exemplary teachers in their second or third year of teaching.
"Evening of Excellence is an opportunity to celebrate teachers and show our appreciation for their impact that reaches well beyond the classroom," said Dr. Stacy Baier, CEO of the Pinellas Education Foundation, which has hosted the event for more than 20 years. "The Foundation's mission is to accelerate educational achievement for all students, and we are fortunate in Pinellas County to have so many exemplary teachers dedicated to improving student outcomes."