Return to Headlines
Mount Vernon Elementary students enjoy 'Rays Day'
March 9, 2023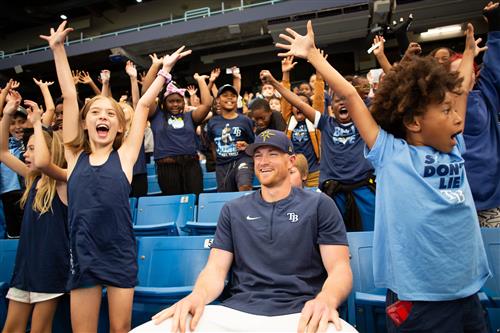 It all started with a social media post and several boxes of unlicensed t-shirts.
Asianna Lotito, who has been volunteering as a Lunch Pal with Pinellas County Schools for the past three years, was gifted hundreds of Tampa Bay Rays shirts to be distributed at her beloved Mount Vernon Elementary after putting out a call for clothing donations.
"We started brainstorming about having a Rays Day," said community liaison Adrianna Vanzandt, who coordinates volunteers at the school and works closely with Lotito. "We said to ourselves, 'Let's have a parade and have all the kids wear their shirts because it's not like the Rays will give us all tickets.' "
Fortunately for the 155 students who attended Thursday's spring training game at Tropicana Field, Vanzandt was wrong.
Not only did the Rays donate the tickets, but they also donated concessions for every student, popcorn for the kids back at school who weren't able to attend the game, and, perhaps the biggest surprise of all, a little one-on-one time with starting pitcher Drew Rasmussen, who made his way into section 126 for a few minutes during the game.
"Our students don't get a lot of opportunity to do things like this," said Mount Vernon Principal Dr. Robert Ovalle. "A lot of them live five minutes from the stadium and have never been to a game. They will remember this experience for the rest of their lives."
Once the t-shirts and tickets were in place, Lotito began fundraising for donations to cover transportation to the game. About $6,000 later, three charter buses were secured and "Rays Day" was in full swing.
"To see all the kids so wide-eyed and excited just means so much to me," Lotito said. "I'm on cloud nine right now."
Of course, having the Rays at Tropicana Field for spring training was a huge piece to the puzzle. Sandy Sternberg, director of concessions and retail for the Rays and the school's main contact for the donated tickets, said the event gave the Rays the opportunity to show local kids what professional baseball is all about.
"It's always a joy to see new faces come to the ballpark, and we want to get these kids into the building however we can," Sternberg said. "Exposing kids to the magic of baseball is what it's all about."
Fourth grader Jakayla Norton had never been to a Rays game before. Her favorite part – the foul balls coming into the stands and the Jumbotron.
"It's really beautiful here. I really like it," Jakayla said. "I learned that when you keep hitting foul balls you get to keep trying."
After a hot dog lunch and a few photo opportunities with Rasmussen, the students' cheers could be heard well into the depths of the Trop when mascot Raymond appeared.
"My favorite part was meeting Raymond," said second grader Clinton Hulsey. "And when they did crazy things like slide on the grass to catch the ball."
Lotito hopes to make "Rays Day" an annual event and even extend the opportunity to other schools.
"People were coming up to us saying the kids made the game for them," Lotito said of other Rays fans. "I'm already thinking about next year!"