Return to Headlines
Pinellas Park High students work through mock disaster on 'Disaster Day'
April 14, 2023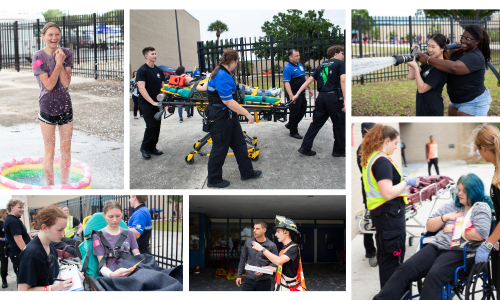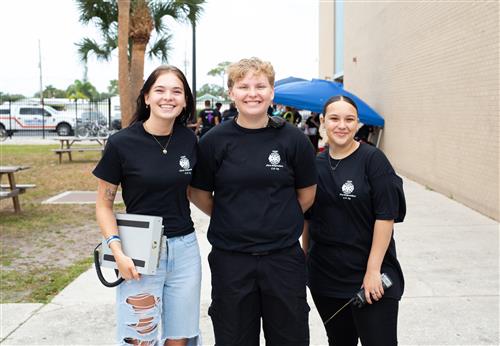 Just before 8 a.m. on Wednesday, April 12, senior Jade Hendrix donned a bullhorn to declare to her fellow 'Disaster Day' participants that there had been an explosion at a research facility, which was determined to be an act of domestic terrorism. The explosion was said to involve hazardous material causing contamination. Law enforcement, firefighters and first responders were on the scene and search and rescue was needed.
Just seconds after they heard the scenario, the Criminal Justice Academy and First Responders Program seniors jumped into their roles and began pulling victims, the juniors in the programs, from the incident site, better known as the auditorium's foyer.
The scene was all part of Pinellas Park High School's annual Disaster Day, a recreation of a realistic event that requires mutual aid, with students playing key roles of Incident Commander, Public Information Officer, Fire Chief, first responders and detectives.
"This is a big part of the program and something we've looked forward to since we were freshmen," said Kayla Suchier, a senior playing the role of the Public Information Officer. "Everyone is having fun, which is a big part of the goal."
Jackson Cooper, a sophomore in the First Responders Program, waited patiently in the auditorium until it was his turn to play a victim. According to his cue card, he had burns on 80 percent of his body and was alert but not oriented.
"This is my first experience with Disaster Day," said Cooper, who wants to be a firefighter. "It's good practice for if you want to go into the field."
Just as they would in a true large-scale crisis, incident command set up a CPR area, a triage area, a HAZMAT area where victims are decontaminated and a transportation area to get victims to local hospitals, in this case, the school's baseball field. Law enforcement also set up a holding area for suspects.
"We are asking all victims who are coherent to identify themselves so that we can find the suspects," said Ember Yabczanka, a senior acting as a police officer. "We are also here to protect the first responders and to make sure none of the victims get aggressive."
Hendrix worked throughout the day with Stephen Glatstein, supervisor of special operations with SunStar Paramedics, using a whiteboard as a command worksheet to keep everything running smoothly.
"It's going really well. It's fun and stressful. There's a lot to do," Hendrix said. "But it is teaching us that there has to be good communication."