Return to Headlines
Board unanimously approves bus driver pay increase
May 23, 2023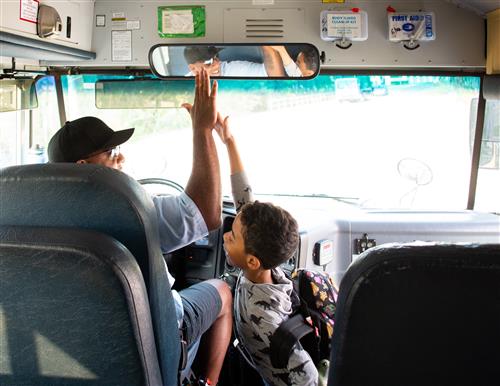 In a special called School Board meeting yesterday, the board unanimously approved a motion to increase bus driver pay effective immediately.
Superintendent Kevin Hendrick introduced the item by acknowledging the efforts put in place to attract more bus drivers to the district but also recognizing the need for the increase. The district currently has about 60 unfilled bus driver positions.
Paula Texel, associate superintendent of Human Resource Services, thanked the transportation department as well as the Service Employees International Union and the Florida Public Services Union for assisting with swift research to get the motion in front of the board so quickly.
"Even with the increased efforts, we are still seeing a shortage of bus drivers," Texel told the board. "One area we feel is a hindrance is driver pay."
Effective immediately following the approval, bus driver pay went from $16.36 to $19.79 per hour for drivers, $17.98 to $21.76 per hour for relief drivers and $19.79 to $21.76 for lead drivers. Texel mentioned the pay is more in line with private delivery companies and public transit. The increase also puts Pinellas County drivers among the highest in the Tampa Bay area, ahead of Polk, Hillsborough and Pasco County Schools.
"Knowing the challenges we've faced with regard to bus drivers, I think it's important we approve this raise," said School Board Member Caprice Edmond. "And I think we need to stay open-minded with other ways we can make this job more of what someone would want."
The transportation department said it hopes to advertise these positions and the increase immediately in an effort to train new drivers over the summer and have all routes filled by the start of school.
Pinellas County Schools is holding a job fair on June 14 from 4 to 6 p.m. at Pinellas Technical College, 901 34th Street South, St. Petersburg. The fair is for all support staff including mechanics, drivers, food and nutrition, custodians, painters, equipment operators, HVAC technicians and more.
For more information, visit www.pcsb.org/jobfair.