Return to Headlines
Elisa Nelson Elementary brings home second in Odyssey of the Mind World Finals
May 31, 2023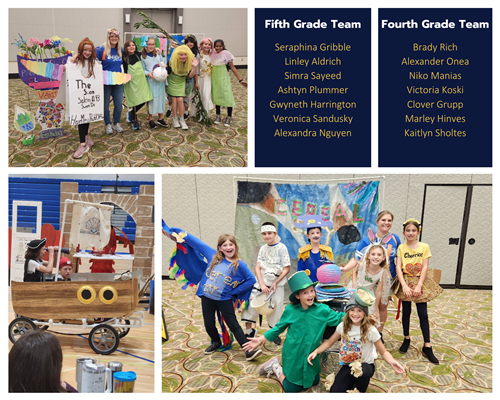 After placing first at the state level in April, the fifth grade Elisa Nelson Odyssey of the Mind team placed second at the world championships last week in East Lansing, Michigan.
Fourteen Elisa Nelson fourth and fifth graders traveled to Michigan State University to compete in the world finals against teams from all over the globe, including South Korea, Switzerland and across the United States.
"I am beyond proud of our fifth-grade Odyssey of the Mind team. Winning a world title among countries from all over the world is a big deal," said Elisa Nelson Principal Hema Adhia. "What is extra special about this team is that it was an all-girls team. Students had to audition to be selected for the team, and it just so happened the top performers were all girls. It is very exciting to see that girls are leading the way in innovation and problem-solving."
Odyssey of the Mind teaches students to learn creative problem-solving methods by thinking divergently and providing open-ended problems that appeal to a wide range of interests. Teams of up to seven students learn how to identify challenges and to think creatively to solve those problems. Odyssey of the Mind emphasizes teamwork, budgeting, time management, public speaking, and so much more. This international program is designed to help students at all learning levels grow as individual learners, grow as team members, and to reach their full potential.
Tournaments include three different scored areas: long-term solution, spontaneous, and style. Each team prepares their presentation to the Long-Term Problem to be presented at tournament. Presentations have specific guidelines and problem-based challenges that must be mastered to achieve success. Within their long-term solution, specific elements are scored for style, including exceptional artistry, talents, engineering and intentional choices made to enhance the solution to the problem.
Despite winning first place at the state level, the fourth-grade team did not place at Worlds.
"The skills and self-confidence that they have developed through this experience will carry over to all areas of their lives," Adhia said. "It has been amazing how this experience has allowed each member of the team to show incredible growth in the areas of teamwork, budgeting, time management, public speaking, and above all, humility and mutual respect. All of these are the necessary skills for successful careers and lives."