Return to Headlines
Dunedin High electrician headed to national competition
June 12, 2023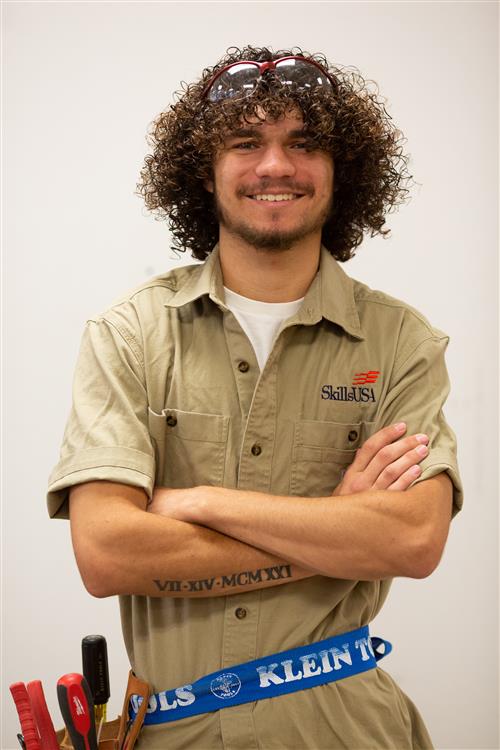 Some people make a summer trip to Atlanta to watch a Braves game, spend the day at Six Flags or take in a day of museums, but recent Dunedin High graduate Josh Ward will travel to the Big Peach next week to showcase his electrical wiring skills on a national stage.
After winning the gold medal in Skills USA's state competition for Electrical Construction Wiring in April in Jacksonville, Ward will spend five days competing for the national equivalent June 19-23. Ward is part of the Construction Technology Program at Dunedin High School and has already received several job offers, which followed his high-caliber performance at the state level.
"I'm just going through the same things over and over to make sure I'm doing every little thing the correct way," Ward said of preparing for nationals.
Luckily, thanks to the program's new leadership in teacher Brandon Szymanski, Ward not only has an ample place to practice, but also professional guidance from someone who has spent years in the field. Ward also uses opportunities like rehabbing houses with his family to perfect his craft.
"Once he took a liking to this, he didn't miss a single class and would stay through lunch," Szymanski said of Ward's work ethic. "Josh is different because he is actively practicing outside of school as well. I've loved watching him grow."
Ward says he's never been sold on the idea of a traditional college path, so when he visited Dunedin as a graduating eighth grader, he decided to give the construction program a try. He's experimented with almost all the trades offered, from plumbing to masonry to carpentry, and found the electrical trade to be his favorite.
"The hands-on aspect is a big part of it," said Ward, who says he worked on projects with both his grandfather and his dad growing up. "But also knowing I brought power to an outlet or a building is pretty cool."
At Skills USA, competitors are required to complete a written test of questions formulated from the latest edition of the National Electric Code (NEC), a practical conduit bending exercise and hands-on installation of a conduit system, cabling system and wiring devices. Working from drawings and specification sheets, competitors are required to install an electrical system common in most residential and light commercial projects. Judging is based on general workmanship, accuracy of layout and installation, and adherence to the current NEC and standard industry safety practices.
"The competition has opened doors for me and the rest of the program," Ward said. "When I came back from the state competition, I realized the impact I was having on the class."
Ward hopes that impact will translate into even more students from Dunedin going to regional, state and national competitions in the years to come. And he is confident that will happen under Szymanski's guidance.
"He knows what he is doing, so it was really easy for me to learn from him," Ward said of his teacher. "He knows how to prepare us for the workforce."
As for Ward, he already has 10 job offers on the table and hopes to entertain even more once he competes in Atlanta. He knows his value and says he is looking for a company that recognizes his worth.
"My mom always told me college isn't always the answer," said Ward, who hopes to start his career in south Florida. "The option of getting paid really well and going right to work excites me."