Return to Headlines
Sgt. Michael Hawkins honored as longest-running School Resource Officer in PCS history
June 21, 2023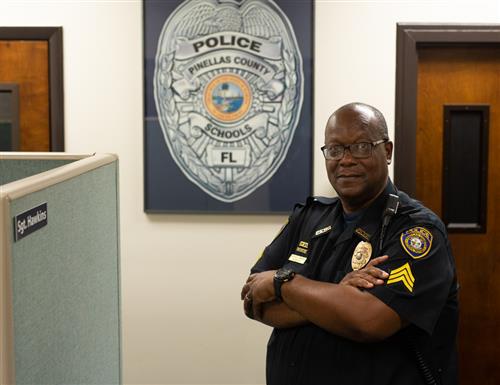 Sgt. Michael Hawkins measures the success of his decades-long career by the sheer number of quality relationships he's built.
At least 30,000.
That's Pinellas County Schools Police Chief Luke Williams' best guess, anyway. And that's at Gibbs High School alone.
"He has touched so many lives and made an impact on so many – from students to faculty to those in the community," Williams said.
This week, after 41 years as a police officer and 25 years as the Gibbs School Resource Officer, Hawkins is officially turning in his uniform.
"He is emblematic of what we look for in a person who will go in every day and interact with the students and staff. He can relate to anybody."
Hawkins, who attended Melrose Elementary, 16th Street Junior High and St. Petersburg High School, says he's benefitted from the bonds with students just as much as they have. He fondly recalls a multitude of conversations where students would confide in him or ask his opinion on how to handle a situation. Following up with them is the key, he said. He feels honored that they came to him.
He would listen to their "hard core" rap music if they listened to his worship songs. He once purchased a new pair of shoes for a boy who was getting into trouble due to his bad attitude. Hawkins learned the root of the problem was that the student was being teased.
"I saw him walk away from my office and his shoes were flapping all over the place," Hawkins said. "He was a new person once he wasn't worried about that anymore."
Quite simply, Hawkins gains people's trust, said Williams.
"He's really been a trailblazer for what an SRO should mean and what they should do," Williams said. "If they're looking for someone to emulate, it would be Michael Hawkins."
Pinellas County Schools Police Department has spent the last few weeks celebrating and reminiscing with Sgt. Hawkins, most notably, making the decision to rename the SRO of the Year Award the Michael A. Hawkins Award. The award is given annually to one outstanding School Resource Officer.
"It really made me feel good to know that with all the work I've done, someone down the line might ask, 'Who was Michael Hawkins? Can you tell me about him?'" Hawkins said of the award renaming. "That's something I never expected. To have something named after me. My name is set forth in history. It puts tears in my eyes."
Hawkins, who was born and raised in St. Petersburg, joined the St. Petersburg Police Department as a trainee cadet in 1981 and graduated from the academy in 1982. After about a year on patrol, he entered the SRO program, established in 1984, and was assigned to Gibbs. It was there where he solidified his role as protector and trustworthy confidant.
Dr. Christen Gonzalez, now the Area 1 superintendent for PCS, was on the receiving end of that protection while working as an assistant principal at Gibbs. She recalls a time her and her mother ran into Hawkins and his wife at the mall a short time after she became AP. According to Hawkins, her mother promptly asked him to "make sure nothing happens to my child." He told her, I might squish her in the process, but I will keep her safe, Gonzalez said with a chuckle.
"He's just an amazing individual and I hope he has a wonderful retirement," Gonzalez said.
After being at Gibbs for 25 years, the longest-running SRO in St. Petersburg history, Hawkins served an additional five years as a robbery detective before being convinced to join PCS police instead of retiring. He thought he would spend another couple of years with the district before riding into the sunset. That was nine years ago.
"It's been greatly rewarding," Hawkins said, adding that the job has been equally heartbreaking at times. He has lost several students and staff close to him. "I've worked with some of the best young people."
Hawkins has received several awards, including the Florida Resource Officer of the Year award in 1985 and the 1996 Officer of the Year award for the St. Petersburg Police Department. In 2019, he was awarded the Florida Association of School Resource Officers (FASRO) Lifetime Achievement Award.
"I use the monkey-wrench concept," Hawkins said of his philosophy on being a police officer and SRO. "You have to be adjustable. What fits for one person might not fit for someone else, so you tighten up or loosen up, depending on the situation."
Hawkins said he wants to be remembered for being fair, trustworthy, committed and for having integrity. He looks forward to spending more time with his wife Stacey, continuing his ministry work and being dad and grandfather to his four children and three grandchildren.
"Sometimes it's hard to be a role model at home when you're helping everybody else," Hawkins said. "I love my family dearly. They've made a lot of sacrifices for me to be out there."
Grace Albritton, for one, is thankful for those sacrifices. She credits Hawkins as the reason she became a police officer and his eventual successor at Gibbs High School. Albritton met Hawkins in 1988 when she was a freshman at Gibbs. She joined the St. Petersburg Police Department in 2011 and became the school's SRO in 2015.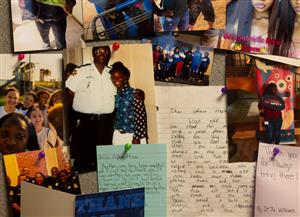 "He didn't let us get away with anything, but we knew he cared," Albritton said of being a student under Hawkins's watch at Gibbs. "We trusted him. We loved him. He was more like a father-figure to all of us."
This, during a time when police often got a bad rap and students viewed officers as "enemies."
"He had a personal relationship with all of us. He called us by name," she said. "He knew our parents, our grandparents, people in the community. He IS the SRO of St. Petersburg."
Hawkins said his mantra is simple: treat others how you want to be treated.
"To describe what he means to the students and staff of Pinellas County is difficult because he is just an amazing person," Williams said. "We're going to replace him, but we're never going to replace him."