Return to Headlines
North Shore Elementary mom is making professional soccer referee history
Sept. 27, 2023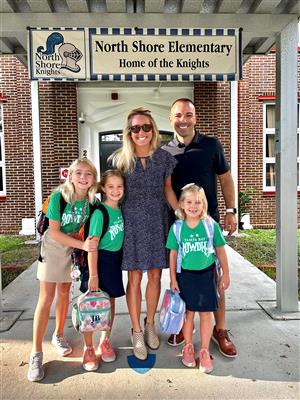 Tori Penso made history when she became the first-ever soccer official from the United States to referee a World Cup Final. But, when she's at home, life transitions from training and technical briefings to homework and dinner as a family.
"I didn't really think it was possible to be a mom and a professional referee," Penso said from the library at North Shore Elementary, where her daughters Brinley, Jovie and Piper are in kindergarten, second and fourth grades respectively. Prior to 2019, she was working in digital media for an agency in Tampa and refereeing for a semi-pro league on the weekends.
"Then I had a moment where it kind of hit me – what if I go all-in on soccer?" Penso said. "What if I focus all my energy and efforts? Maybe I could be a referee in the World Cup."
Although Penso said it was a big risk, it was one with rewards that have been tenfold. Not only does she now work full-time as a professional soccer referee for a top men's division in the U.S., but she also earned a once in a lifetime opportunity to referee a World Cup final.
"I think it's really cool that she actually referees games that are really special," said Piper Penso, who traveled with her dad and sisters to watch Penso work in Australia and New Zealand. "I'm really proud of her."
Tori's husband, Chris Penso, who has been a Major League Soccer referee since 2011, is equally proud.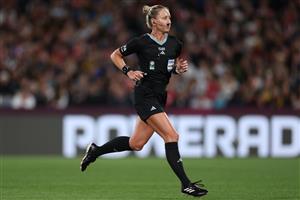 "She could choose from hundreds of excuses – nagging injuries, lack of rest, not enough time in the day, but she's always found the time to train, to grind, to put in the work," said Chris Penso. "Years later, we get to see the results, the history she has made and the millions she has inspired, and it leaves me speechless."
While Penso admits that the training, research and travel can be daunting, the message she is sending her girls resonates loud and clear: Dreams are worth chasing and, with work and effort, anything is possible.
"As a mom, I have a responsibility to teach my girls to chase their dreams," Penso said. "They see the behind the scenes and know that my husband and I both work very hard. But they've also seen what happens when you put in the effort."
Despite being "all-in" during working hours, Penso said her relatively new schedule also allows for dedicated family time. While she wouldn't have been able to volunteer at school while working her nine-to-five, she and Chris both carve out time on campus to read to the girls' classes, eat lunch or chaperone field trips.
"One of our sacrifices has been time away from the girls, but when we're home, we're home," Penso said. "We're not trying to multi-task. Between the hours of 3 and 8 p.m., those hours are precious to us. They're pretty much untouchable."
As for the trip to Australia, the girls can all agree on one thing – seeing their mom on the field in a stadium full of 75,000 screaming fans was their favorite part. What came second ran the gamut.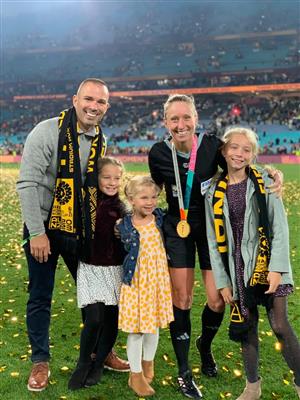 For Brinley, it was lying on the field making confetti angels after the final game. For Jovie, the indoor waterpark was a highlight and, for Piper, feeding kangaroos took second place. There were also "fancy" airplane seats complete with lots of snacks, train rides, meeting the Queen of Spain and the President of U.S. Soccer, and endless amounts of ice cream.
"This is an experience I will have in my life forever and hopefully the girls will tell their children about it one day," Penso said. "I knew it was going to be an amazing experience when we were heading there, but I really had no idea."