Return to Headlines
Lakewood High senior honored with Lightning Community Hero honor and $50,000
March 7, 2019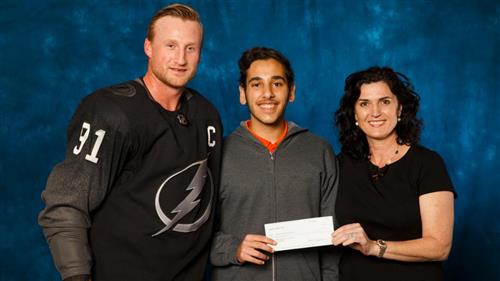 Naseem Hamed, a senior at Lakewood High School, was honored as the 34th Lightning Community Hero by the Tampa Bay Lightning. As a result, Naseem received a $50,000 donation from the Lightning Foundation and the Lightning Community Heroes program. Naseem plans to donate half of the award to Lakewood High's Center for Advanced Technologies program via the Pinellas Education Foundation.
Naseem parents emigrated from Palestine and only spoke Arabic at home so they were unable to help him with school. He was then given a mentor who pushed for him to be accepted into the Take Stock in Children (TSIC) program in sixth grade. After getting involved with the program, Naseem started volunteering and mentoring other students. He mentored and volunteered many groups including STEM Robotics students, the National Honor Society and an after-school literacy camp program. He also led a volunteer project to help other district high school students track their graduation requirements through the Pathway website and portal.
Naseem plans to expand Future Plans, a career and college preparatory program that makes sure students, including Take Stock in Children students, have the best information in deciding what career path to pursue to increase their chances of success later. He also is looking to strengthen the communication platform with the TSIC students who are currently in college to make sure that they are still getting the most out of the program. With his background of coming from a low-income household and the guidance from his TSIC mentor, Naseem is motivated to develop this initiative.
Naseem Hamed is the 358th Lightning Community Hero since Jeff and Penny Vinik introduced the Lightning Community Hero program in 2011-12 with a $10 million, five-season commitment to the Tampa Bay community. The Lightning Foundation has granted $17.9 million to more than 400 different nonprofits in the Greater Tampa Bay area. During the summer of 2016, the Vinik's announced that the community hero program will give away another $10-million over the next five seasons.