Annual Meet 'N' Greet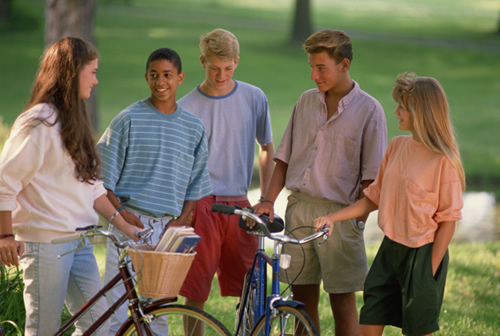 New to the Academy of Information Technology (AOIT)? Join us for our Meet and Greet event on Wednesday, May 3, 6:00pm in the AOIT Building on NEHI campus (building 5, South side of campus). This event will allow you to learn more about the Academy, meet existing academy students and parents, take part in activities to become familiar with the program and help make your transition a success! Check out our flyer for more information.

---
The Academy of Information Technology (AOIT) at Northeast High School combines hands-on technical training, academic course integration and project-based learning in order to respond to the need for a well-qualified, highly technical, analytical and educated local workforce. The AOIT offers students a value-added program to enrich and complement the traditional high school experience. Students develop marketable technology skills embedded in their coursework, and prepare themselves for the industry certifications, postsecondary degrees and careers needed in this high-wage, high-skill career field.
Incorporated in all courses are strategies for success including goal setting, study skills, organizing skills, learning styles, employability skills, and service learning; and core academic skills with a strong emphasis on effective communication skills. Throughout the program, students build a portfolio containing work samples demonstrating the transferable skills they have achieved toward an IT career. Qualified students may sit for exams to obtain industry certifications in Microsoft, CompTIA and Adobe applications. Students may become eligible for Bright Futures/Gold Seal scholarships and/or a paid internship.

The Academy of Information Technology has expanded its curriculum offerings, reflecting the new IT curriculum frameworks from the Florida Department of Education. All students will begin with Introduction to Information Technology in their freshman year, and will continue with required courses in Fundamentals of Web Technologies and IT Systems & Applications.

Upperclassmen will have a greater choice of courses to complete the program, with year-long classes in Database Essentials, Programming Essentials, Web Development Technologies, Multimedia Technologies, Computer Networking Fundamentals, and Cyber Security Fundamentals. Online preparatory courses are aligned to each of those options, so that students can pursue industry certifications. All courses offer hands-on projects to enhance skills and comprehension, such as:


• Programming applications for mobile devices
• Constructing and programming robots
• Designing publications for print and digital media
• Troubleshooting/repairing computer hardware and software
• Building a local-area network


The four-year plan for AOIT accommodates students desiring Honors, Dual Enrollment and Advanced Placement options for academic courses, while fulfilling standard college entrance requirements.
| | |
| --- | --- |
| | AOIT business partners enhance the program by bringing their expertise into the classroom, as speakers, mentors, consultants and guest teachers for hands-on labs and seminars. They provide opportunities for field trips, job shadowing, conferences and internships. Students also participate in Junior Achievement and Future Business Leaders of America programs. The AOIT is affiliated with the National Academy Foundation, which builds partnerships between high schools and businesses to develop career-themed academies-smaller learning communities where students can make a relevant, experience-based connection between rigorous studies and practical work experiences. |