Explore Pinellas Virtual School
Is your child an independent learner? Do they take responsibility for their own learning? Pinellas Virtual School may be a great educational choice for your family. PVS students have the flexibility to attend full- or part-time and work at their own pace. Our innovative curriculum keeps students engaged.
Our Pinellas Virtual School franchise serves students in kindergarten through 12th grade:
For students in K-5, Pinellas Virtual School offers free enrollment in a full-year program. Students and learning coaches receive instructional oversight by highly qualified teachers who use the latest technologies for online learning.
Students in grades 6-12 may enroll in Pinellas Virtual School part-time or full-time. Public school, private school, charter school, home education and students new to Pinellas County are eligible to apply.
---
Apply for the 2022-2023 School Year
Pinellas Virtual School (PVS) enrollment for the 2022-2023 school year is underway. We are accepting students in Kindergarten through 12th grade for the 2022-2023 school year. Steps to complete the application
Please apply at reservation.pcsb.org.
The deadline to apply is Monday, July 11, at 5 p.m.
---
Pinellas Virtual School Orientation Information:
Elementary:
Dates to be determined for the 22-23 school year
View our online elementary orientation
6th - 12th Grade:
Dates to be determined for the 22-23 school year
View our online secondary orientation
---
Pinellas Virtual School Options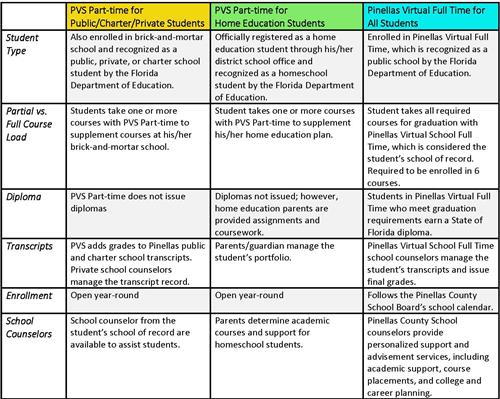 Download Pinellas Virtual School Options
Advanced Placement and Honors Credit
Most high school courses can be taken for Advanced Placement or honors credit. During the registration process, you will be able to select the regular, honors, or Advanced Placement version of the desired course, if it is available.
PVS AP courses include AP Computer Science, AP English Literature, AP Art History, AP Statistics, AP Biology, AP English Language, AP Macroeconomics, AP Microeconomics and AP Psychology.
PVS courses can help students meet the requirements of the Florida's Digital Learning Act, which requires students to complete an online course as part of the 24 credits required to graduate. Learn more >>
---
Technology Assistance
Does your child need a laptop to participate in Pinellas Virtual School? To be eligible, you will need to fill out our technology request form and apply for free/reduced lunch.
---
Hear what families are saying about PVS!
Subscribe to Pinellas Virtual
Stay up to date with Pinellas Virtual School news and information.
Subscribe now >>