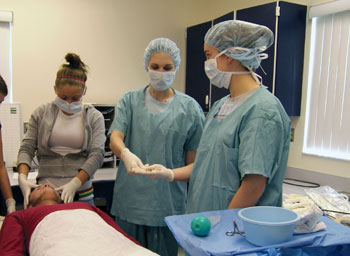 Boca Ciega High School
924 58th St. S, Gulfport
(727) 893-2780, ext. 2124
https://www.pcsb.org/bocaciega-hs
Designated as a Center of Excellence
To attend this program, parents must apply online during the Application Period in January.
Palm Harbor University High School
1900 Omaha St., Palm Harbor
(727) 669-1131, ext. 2133
www.phuhs.org
Designated as a Center of Excellence
To attend this program, parents must apply online during the Application Period in January.
This program prepares students for careers in the medical field and helps them develop a commitment to personal wellness and the prevention of disease. The program curriculum provides educational opportunities for students to pursue post-secondary degrees or entry-level medical and wellness jobs.
Academic Profile of a Successful Student
The Center for Medical Wellness Professions is an academically rigorous program in which students may participate in honors or Advanced Placement (AP) level courses in math, science, social studies or language arts. In addition, students in this program participate in elective courses which may include technology, world language, or other honors and AP level academic electives. Students who typically do well in this program earn mostly As and Bs on their report cards, maintaining a 2.0 average and earn proficient scores on their FSA mathematics and language arts annual assessments. Students new to Pinellas County Schools who do not have an FSA score, can look at their standardized test scores from their previous school to determine if they have at least a 4 stanine or higher in both reading/language arts and mathematics.
Once enrolled in the program, students must attend all classes regularly, maintain a minimum unweighted GPA of 2.0 in 9th grade, 2.3 in 10th grade and 2.5 in 11th and 12th grades as well as abide by the Code of Student Conduct. Falling below these expectations may result in placement on probation and/or dismissal from the program. Please review the District Application Program Procedures available on the Pinellas County Schools website for further information.