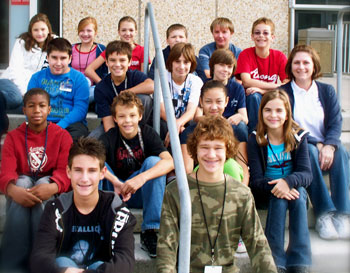 1660 Palmetto St., Clearwater
(727) 298-1609
https://www.pcsb.org/clearwaterfund-ms
To attend this program, parents must apply online during the Application Period in January.
Clearwater Fundamental Middle School promotes student responsibility and parental involvement in a safe learning environment. At CFMS, students develop the 21st century skills necessary for excelling in both educational and career environments. A strong emphasis is placed on the partnership between home and school in working together to promote highest student achievement. Student responsibility, mandatory parental involvement, and a rigorous curriculum are integral to our success.
ABOUT CFMS


Student Council, PMAC, AVID, chess club, robotics club, math club, orchestra, band, chorus, Spanish, CAPE certifications and YMCA.
An accelerated curriculum with the potential to earn up to 8 high school credits.
Parent committment is required.
POINTS OF PRIDE
Passage rate for 2018 Geometry EOC was 100% and 95% passage rate for the 2018 Algebra 1 EOC.
Ranked as the #22 Middle School within the state of Florida.
127 students earned IC3 and/or Microsoft certifications
National and State recognition in the areas of performing and visual arts.
District, regional and state recognized math team.