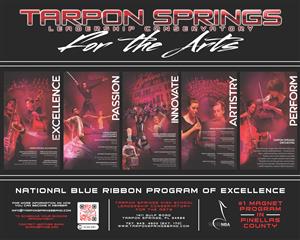 Tarpon Springs High School
Leadership Conservatory For the Arts
1411 Gulf Road, Tarpon Springs
(727) 943-4900
https://tarponspringsband.com/
The Tarpon Springs Leadership Conservatory for the Arts program provides a world-class learning center of excellence that integrates leadership skills, the performing arts, and advanced technology with a rigorous academic curriculum. We provide a learning environment that prepares today's students for the shift to tomorrow's challenges, which shapes and builds their creative ability to adapt to the changing world while being the best version of themselves.
TSLCA is dedicated to providing outstanding artistic experiences, rigorous academics, integrated technology experiences, and a leadership curriculum that develops each individual's character and ability for leadership. Our arts curriculum teaches students the skills of analysis and synthesis. We encourage them to cross boundaries and guide them with creativity and imagination to be the most they can be.
Through the study and performance of the highest quality musical literature, TSLCA allows individuals to develop musical artistry, poise, confidence, and self-discipline. They develop an understanding and love for the art of music and dance and the process for success in every aspect of their lives.
We are proud to be a countywide magnet program within the Pinellas County School system which is open to all students who have the desire to develop their ability to be a leader and become the best student performers they can possibly be. The Leadership Conservatory membership reflects the cultural and economic diversity in our community, brought together in a joyful, caring, and supportive environment where students develop into life-long learners and leaders.
To attend this program, parents must apply online during the Application Period in January.