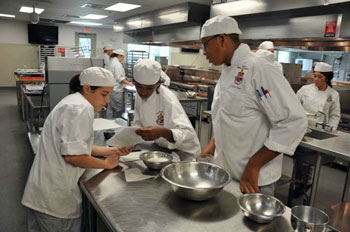 Northeast High School
5500 16th St. N, St. Petersburg
(727) 570-3138, ext. 1107
www.northeast-hs.pinellas.k12.fl.us
Designated as a Center of Excellence
To attend this program, students must live in the south application area. Parents must apply online during the Application Period in January.
This program provides students training in the culinary arts and hospitality industry. Students will explore and study world-wide cultures while developing specialized skills in food identification, selection, purchasing and preparation. Students will have the opportunity to receive certification in culinary work as they prepare for advanced post-secondary culinary training or a career in food preparation and restaurant management.
Watch this
PCS "In the Works" video
about the Academy of Culinary Arts at Northeast High.