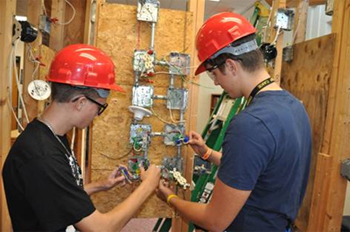 Dunedin High School
1651 Pinehurst Rd., Dunedin
(727) 469-4100
https://www.pcsb.org/dunedin-hs
Designated as a Center of Excellence
To attend this program, parents must apply online during the Application Period in January.
The Academy of Architecture, Robotics and Construction offers three independent and distinct strands:
Architectural Design and CAD
Preparing students for a future in Architecture, Civil Engineering or Computer Assisted Design (CAD), this STEM program is for students who want to pursue a college education in architecture or a drafting career that utilizes CAD. Students learn and earn certification in AutoCAD, the leading 2-D and 3-D computer-aided drafting software application used to prepare blueprints and engineering plans for architecture, construction and manufacturing. They also get certified in Autodesk Revit, the leading building information modeling software. Students have the opportunity to work with community professionals and receive on-the-job training. Immediate employment as a professional in the drafting field is a reality for those who complete this program.
Students get classroom instruction as well as laboratory time to explore designs, uses, and technological advances of robotics in a variety of career areas. Students are introduced to engineering principles and problem solving. Instructors demonstrate the integration of science, mathematics, technical tools, machines, instruments, materials, process and systems, all pertaining to the field of robotics. The Dunedin HS Applied Robotics Program is designed to prepare students for either a path toward college or directly into a technical career.
Building Construction Technology

The demand in the construction industry is booming, and students who complete this program of study can go immediately after graduation into their career working in this diverse, exciting and lucrative field. They can also continue their education and training be attending any number of post-secondary institutions to expand their careers into management or business ownership.

Students get classroom instruction and hands-on training in the areas of carpentry, electrical wiring, masonry or plumbing along with fundamentals of safety, tools, and math.

Course curriculum has been aligned to standards set by the National Center for Construction Education and Research (NCCER). Instructors are NCCER certified.
Students have the ability to earn industry certification including NCCER CORE and Carpentry 1.