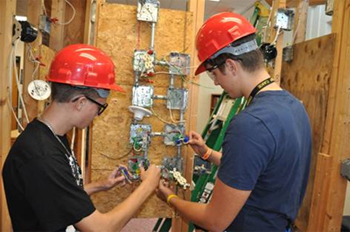 Dunedin High School
1651 Pinehurst Rd., Dunedin
(727) 469-4100
https://www.pcsb.org/dunedin-hs
Designated as a Center of Excellence
To attend this program, parents must submit an online application during the Application Period. The Application Period usually takes place in January.
Brochure
The Academy of Architecture, Robotics and Construction offers three strands:
Architecture and Drafting students in this program gain experience in the skills of architecture through the use of drafting tools, computer-assisted-drawing (CAD), various orthographic and pictorial drawings, floor plans, elevations and landscaping. Students will be qualified to take the certified users exam for software applications: AutoCAD, Atuodesk Architecture, Revit, and Photoshop.
Building Construction Technology Program – students explore different fields in the construction trade including masonry, carpentry, roofing plumbing, HVAC dry wall, ceramic tile and painting.