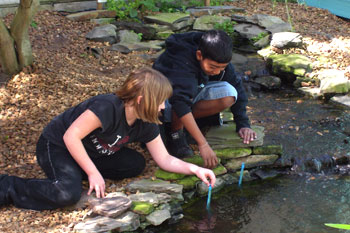 Douglas L. Jamerson Jr. Elementary
1200 37th St. S, St. Petersburg
(727) 552-1703
https://www.pcsb.org/jamerson-es
To attend this program, parents must submit an online application during the Application Period. The Application Period usually takes place in January.
This national award-winning program allows students to integrate math, science, reading, writing and social studies into their assignments in order to complete engineering design challenges, projects and activities. Students have the opportunity to conduct research, design solutions, construct models, test effectiveness, analyze results and communicate solutions.
Students enrolled in Jamerson Elementary are ensured a position at Azalea Middle School and Bay Point Middle School provided they complete an application, meet eligibility criteria and accept a program invitation by the deadline. Azalea Middle School and Bay Point Middle School will offer an academically challenging track to build on the math and engineering skills with real world problem solving experiences.
Jameson Elementary has been recognized as a school of Distinction by the national organization, Magnet Schools of America, for the sixth consecutive year. The school has earned this national award because of their commitment to high academic standards, curriculum innovation, successful diversity efforts and the consistent delivery of high quality education to students.