Together PCS
Page Navigation
TB12 Program Launches District Wide
One year after Pinellas County Schools and the Pinellas Education Foundation launched its partnership with the TB12 Method, the district is expanding the program into all middle and high schools.
To kick off the 2023-2024 school year, all eighth-grade wellness education and high school HOPE students will participate in curriculum incorporating the TB12 Method founded by Tom Brady's TB12 Foundation. The method has four pillars: pliability, functional strength and conditioning, nutrition/hydration and cognitive fitness.
Ten pilot schools, including Madeira Beach Fundamental, began the rollout last August. Alicia Prevost, the sixth-grade physical education teacher and eighth grade TB12 coach at Madeira Beach said she is excited to see the program go District-wide. She, along with about 60 other PE teachers and athletics coaches, participated in a hands-on training with TB12 Head Body Coach Bryan Hart, Friday, Aug. 4 at Osceola High School.
"I see it benefitting the whole district because kids can really take ownership of their workouts," Prevost said. "We've been incorporating the TB12 strategies into our existing curriculum, teaching them how to work out while including the pliability, wellness, sleep and nutrition."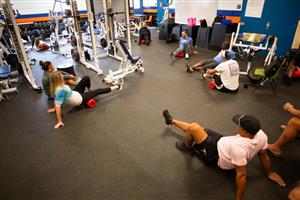 In one breakout session during training, teachers and coaches worked through TB12 stations doing planks, squats, tricep extensions, dead lifts and more using long and short resistance bands. Another session focused on foam rolling various muscle groups. Both disciplines will be incorporated into all schools, with strength bands, foam rollers and descriptive station cards all being provided by TB12.
"The kids are going to enjoy it. They are a lot more into the individual fitness-type stuff these days," said Stephanie Swenson, the physical education teacher at Northeast High School. "This will get them up and moving. Anything that gets them sweating that heart rate up is beneficial."
Hart said the partnership between TB12 and Pinellas County Schools came out of the district's desire to be more innovative with its approach to health and wellness.
"Pinellas County Schools has done a great job with curriculum creation and working with our body coaches and corporate team to ensure the students and instructors are benefitting from the program," Hart said. "It's been a really great experience."
Ashley Grimes, Pre-K-12 Health and Physical Education Specialist for the District, is thrilled to see the project come full circle.
"The opportunity to engage all students across the district in the TB12 program is incredibly exciting," Grimes said. "We are providing an innovative approach to teaching students about wellness and empowering them to guide their own learning to make a lasting impact in their lives."